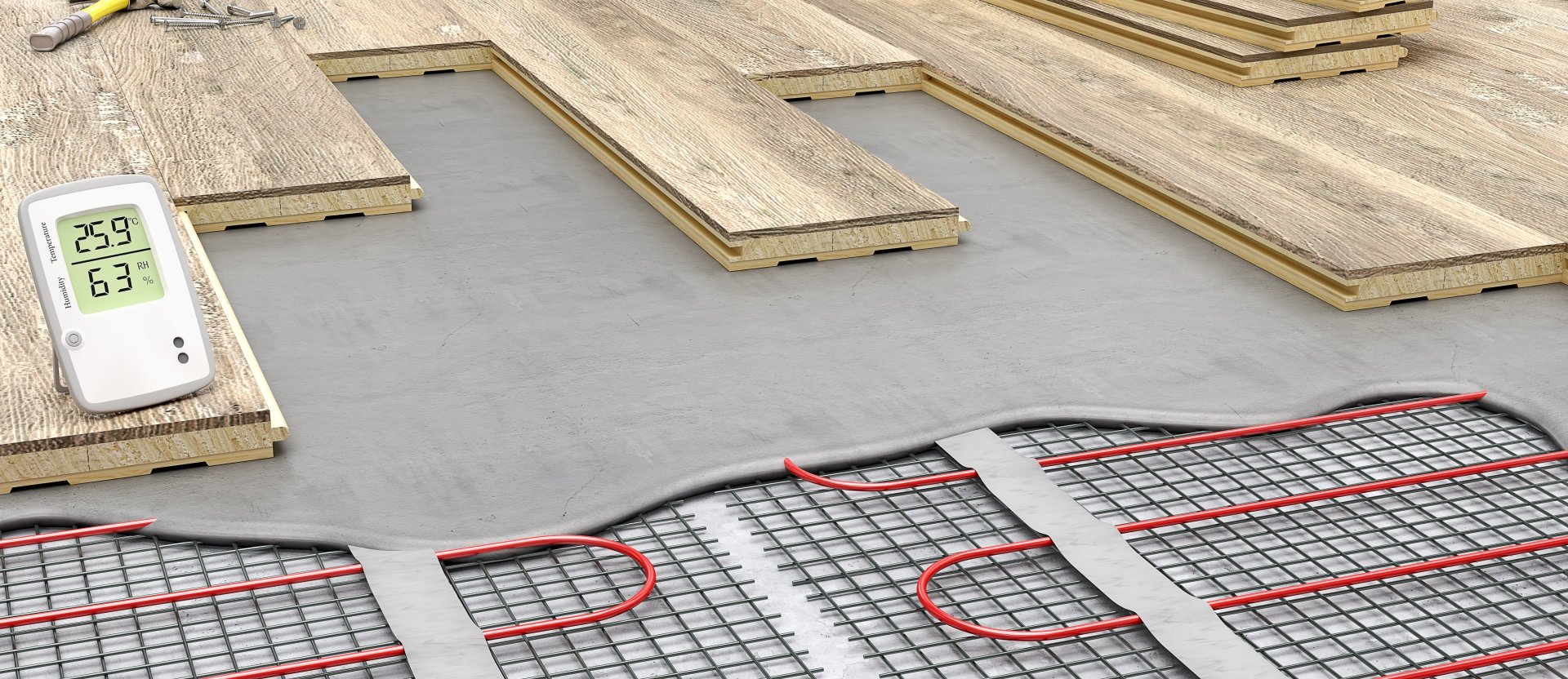 Underfloor heating is common in many countries around the world and in recent years has started to gain traction in New Zealand. As we head into the cooler months, many people are opting for underfloor heating as it is an efficient way to heat the whole house without other forms of heating.
How is Engineered Wood Flooring suited to underfloor heating?
Each species of wood differs in thermal properties. The natural properties of timber flooring cause it to retain the warmth produced by underfloor heating systems and conducts it into the room, which optimises the efficiency of the system.

Although many flooring options work well with underfloor heating, engineered wood is the best type of wood flooring to use with an underfloor heating system as it performs well with changes in floor temperature and can adapt to the changing moisture content.

How Does it work?
Underfloor heating is generally installed during the build process, although it can be installed under existing flooring, but at a higher cost, as the flooring would need to be uplifted and then refinished after the heating system has been installed.

There are two types of recommended underfloor heating systems with engineered wood flooring; Electric Underfloor Heating (electric heating cables installed beneath the floor) and Hydronic Heating Systems (heat pumps used to warm up water pipes laid beneath the floor).

Five things to consider with engineered wood flooring and underfloor heating:
1. Ensure you use a suitable system
Ensure that you use a reputable underfloor heating system installer, who has proven experience installing timber flooring, and that the company supplying the system recommends installing under timber flooring with a glue down installation method.

Suitable Systems:

Hydronic Underfloor Heating systems (set into a concrete slab or screed)
Electric Heating systems set into a screed suitable for use with timber flooring.
IMPORTANT: Ensure the installer uses the correct screed for electric underfloor heating to eliminate the risk of having to uplift the screed and reinstall it.
Heating systems not suitable for use with Timber Flooring:

Electric Blanket system
Hydronic Heating system with exposed water pipes.

The primary reason the above heating systems are not suitable for use with timber flooring is due to the speed of temperature changes with these systems, which can cause stability issues with your wood floors such as warping, splitting and cracking.

2. Commissioning underfloor heating for wood flooring installation
The underfloor heating should be working at least three weeks before the wood flooring is installed to allow enough time for commissioning and subfloor preparation. When an underfloor heating system is commissioned, it means that:

The system temperature is gradually increased in daily increments of 5°C until the system reaches 27°C (this usually takes 5-6 days).

The system is kept at 27°C for at least 48 hours.

The system temperature is then cooled in daily increments of 5°C until it has reached its lowest level.

The system will then need to be turned off for at least 48 hours.

A general rule in the flooring industry is that the surface of the timber floor shouldn't be more than 27°C, therefore placing a rug or carpet over a wood floor that has underfloor heating can trap the heat and lead to higher than ideal temperatures, which can lead to warping.

3. Installation layout
The underfloor heating system must be laid throughout the entire area where the wood flooring is to be installed (even if the heat demand does not justify it). If this is not an option, then it may be possible to separate the area while allowing for expansion. If in-slab heating is partly installed, some of the heat will dissipate through the slab, but it will not effectively heat the rest of the home; it will merely take the chill off the floor.

4. Installation method
From our experience, a glue down installation method is more effective than a floating method with underfloor heating systems as it has improved heat conductivity. A glue down installation also allows the floor to expand and contract comfortably due to the flexibility of the glue, minimising the risk of air pockets appearing under the floor.

Before installation: We recommend the timber flooring be left flat in the original unopened packaging, in the areas it is to be installed in, for at least 48 hours prior to installation. This allows the product to acclimatise to the room temperature and minimises the likelihood of any shrinkage or swelling. The timber should be stored out of direct sunlight, away from walls and radiators.

5. Ideal Thickness of planks
The thickness of the flooring has some impact on the speed of the underfloor heating system warming up the floor. While thinner wood flooring products will heat more quickly, thicker products have greater structural strength. It is recommended that the best range of thickness of engineered planks for heat efficiency is 14mm – 21mm.

We also recommend installing a Fidbox, which is a cost-effective temperature and humidity measuring device that uses integrated sensors installed beneath a wood floor, to send vital information about your indoor climate straight to your smartphone. You will be notified when the temperature is above its recommended limit and will be able to adjust the environment in your living area to an ideal temperature. A Fidbox is mandatory for installation with some of our wider plank collections such as Artiste Rustic (250mm wide) and Villa (240mm wide).

All our engineered wood flooring collections are suitable for underfloor heating, however some may require the installation of a Fidbox. Ensure you check the product specification sheet to confirm suitability before proceeding with the installation.

Read the underfloor heating installation guidelines (2.3 and 2.4) in our Timber Overlay Flooring System Installation Guide here.
For more information about engineered wood flooring and underfloor heating systems, call our team of experts on 0800 445 494, email us at [email protected] or live chat with us on our website.