Decking
Looking to expand your living spaces with a deck which is seamlessly connected to your home to create great indoor/outdoor flow? Learn about our revolutionary decking product, Millboard - a low-maintenance, high-performance and wood-free alternative to timber decking.
What is Millboard?
Millboard decking combines the beauty of natural timber with performance that cannot be matched by real wood. Hand-crafted and moulded from the finest pieces of oak, Millboard combines a high-tech core with a rubberized surface, to capture the beauty of real timber, yet give peace of mind that it will not deteriorate like natural wood.
Why Choose Millboard?
When the sun is out, you simply want to enjoy it. So when it comes to a deck, you don't want to be spending time on its upkeep when you could be relaxing on it with a cool drink by your side.
Millboard is the perfect choice for every type of space: big and small, residential and commercial. As well as the peace of mind of ultra-low maintenance decking, its unique design also means that Millboard can be quicker and simpler to install than timber, with no pre-drilling or special tools needed – simply cut it like wood.
What's more, although its appearance is virtually indistinguishable from the real thing, you'll never need to stain it, worry about warping or replace rotten timber, which means that you can really enjoy living life outside to the full.

Ultra realistic
Moulded from real Oak, not extruded like most composites. Looks just like real timber

Low maintenance
Does not require any oiling or staining over the duration of its lifetime

Splinter-free
The rubberized surface (no real wood content) means absolutely no splinters

Environmentally friendly
Has a very low carbon footprint, base materials achieve ratings of zero for global warming and ozone depletion

Slip-resistant
High grip surface much safer than wood and achieves world class slip resistance ratings

Stain resistant
Non-porous surface makes it easy to clean up spills and deposits
Invisible 'lost head' fixings
Fixings are virtually indistinguishable beneath the unique Lastane® surface

UV and weathering stability
Has been tested and performed in extreme temperatures weather conditions

Resistant to rot, pests and algae growth
No wood content means no rot and it is not affected by pests or algal growth

Dimensionally stable
Does not warp or rot like wood, has very low expansion and contraction rate

Lightweight
Easier to handle and install than solid timber and most composites

Low carbon footprint
Indepently & UKAS accredited to the ISO 14064-01 Verified Carbon Footprint Assurance Mark
For more information, refer to our article What is Millboard Decking?



Discover the key features and benefits of this unique decking product

WHAT MAKES MILLBOARD DIFFERENT?

Millboard decking is made from a revolutionary Polyurethane resin, reinforced with mineral fibres, which retains the beautiful look and feel of wood, but without the maintenance needed to keep it that way. Each decking board is moulded from carefully selected oak samples that showcase the beauty of natural wood grain, then hand-tinted by craftsmen for a perfect real-wood look. The result is decking that is virtually indistinguishable from wood in appearance, but far superior in performance. It doesn't rot or warp, and its UV stability resists fading. With no wood content, there's nothing to encourage algal growth either.
To add to its easy-to-live-with qualities, each board has a Lastane® surface layer which is both non-porous – so spills don't leave stains – and highly slip-resistant, even in the wet. There's no need to spend time applying expensive, often environmentally-unfriendly treatments to keep it looking beautiful, either. Just an occasional wipe over with standard household floor cleaners is all that's needed.
A FOCUS ON SUSTAINABILITY
Millboard decking and the processes used to create it have been rigorously tested to ensure there is minimal impact on the environment. Millboard is the first premium outdoor flooring company in the world to have its carbon footprint independently verified and UKAS accredited, to the international standard ISO 14064-1 Verified Carbon Footprinnt Assurance Mark – 1.31kg/CO2 per m2.

Millboard decking puts no pressure on the world's hardwood forests, and its durability also leads to fewer demands on global resources. Its boards require minimal maintenance, and there's no need to use potentially harmful cleaners or preservatives.
Decking Collections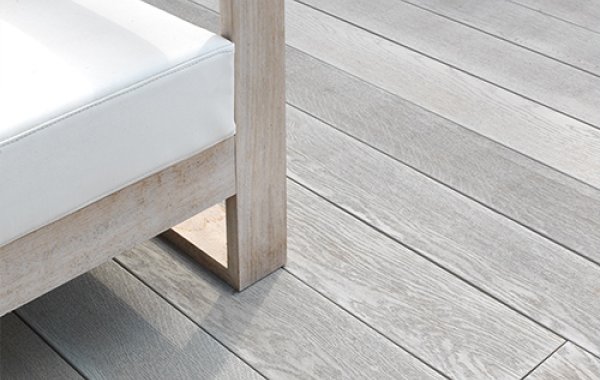 Millboard
A premium collection of highly realistic wood-look decking products, designed with style, quality and minimal maintenance in mind
View Range