Wood Flooring Trends for 2021/22
Advice | August 11, 2021
While flooring trends don't change that much from year to year, in 2020 we saw mid-red brown tones, yellow undertones and walnut a popular choice for wood flooring. However, looking at the trends for 2021/22, mid-red browns are out, and we now see a shift towards opposite ends of the colour spectrum, with blondes and white/grey washes, and dark wood flooring being the choice of many.
Warmer tones have become less popular and potentially polarising while cooler and browner tones are now strongly preferred, along with natural shades of beige and grey tones.
Patterned flooring and wide planks continue to be on the up, with chevron and herringbone bringing a certain elegance to any interior, and wide planks giving the flooring in your home a point of difference.
Below we'll take you through the top wood flooring trends for the upcoming season and give examples of the products that we'd recommend when deciding on what style best suits your home.
Darker Browns and Black
Dark wood flooring provides a rich, luxurious feel reminiscent of times gone by. It has been consistently popular with interior designers and architects due to the modern rustic feel and sophistication it brings to any space.
A dark wood floor can also bring a certain classic element to your interior, especially when paired with neutral décor tones.
Our recommendations
For a dark brown wood floor, we would recommend Artiste Refined Rembrandt or Ultra Marron Oak. Rembrandt is a feature-grade Oak brushed ever so lightly to accentuate the natural grain and characteristics of the timber, creating a more refined look and smoother texture. While Marron Oak is a beautiful aged brown feature timber, containing knots and general feature giving it a rustic character.
If you're after something a little darker, then Urban Seoul would be a good choice. Seoul is a European Oak in a deep black colour bringing a modern and sophisticated look to your home. It comes in a feature grade with knots and subtle texture that follows the wood grain pattern.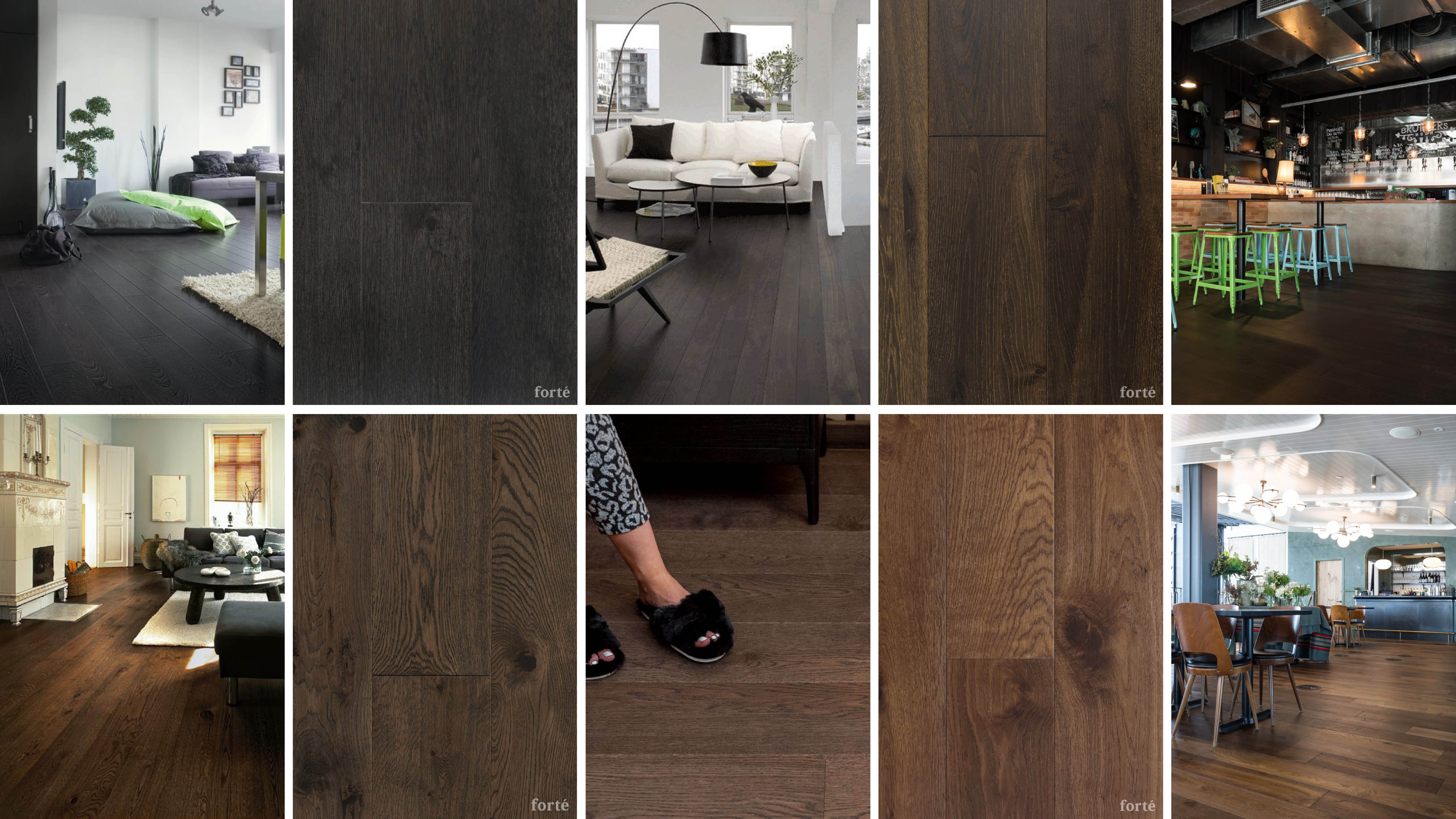 Greys and Grey Blends
The colour grey has become increasingly popular over the last decade, not only in flooring but in interior decor as well.
It sets the tone of a cool, contemporary home and gives a feel of tranquility to the interior. It is a colour that is very neutral and works well with most interior themes, making it the perfect canvas for almost any colour.
Our recommendations
If its classic style you're after then we'd recommend Ultra Mink Grey Oak, a dark smoky grey coloured timber with knots and general feature, adding texture and depth to your interior.
Ultra Driftwood Oak, one of our most popular all-round colours, is also a neutral toned European Oak that works well with almost any interior.
If it is greige you're in favour of then Urban Berlin is our top recommendation. Berlin is a feature grade European Oak in neutral grey/beige, with subtle texture, knots and general feature giving character and warmth to your home.
Moda Altro Tuscany Feature is another beautiful beige-grey toned timber, lightly brushed to provide a raw and untouched-wood look.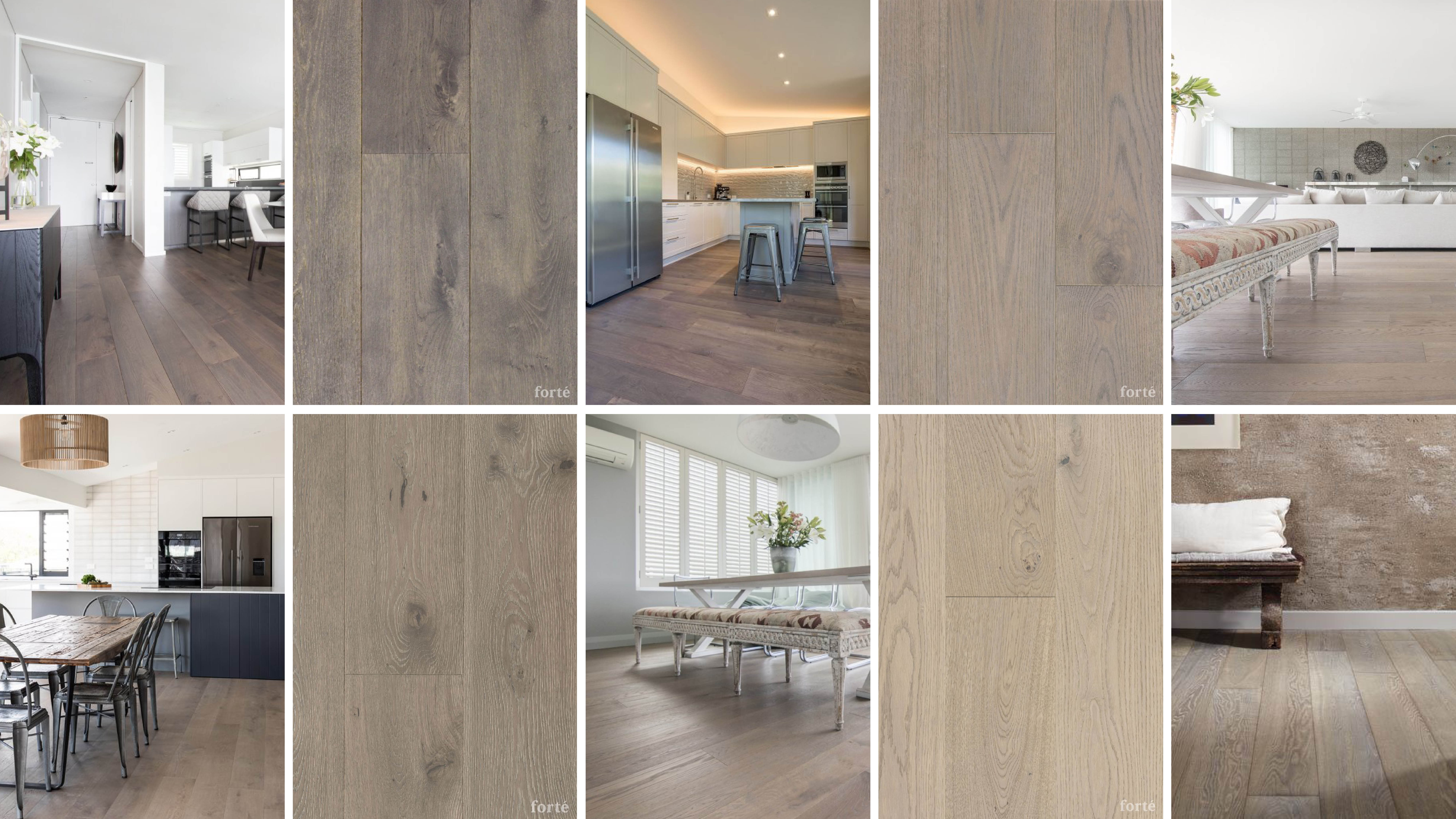 Blonde and White/Grey Washes
Blonde or white/grey washed wood floors give a nod to Scandinavian interior design with their subtle soft hues. This style of flooring gives a light and airy feel to an interior, brightening the room and making it appear bigger. The neutrality and simplicity of these tones make it easy to match any interior theme.
Our recommendations
If this style appeals to you then you'll love the look of Ultra Marbled Oak, a beautiful off-white European Oak in prime grade with a brushed surface that gives texture to the wood's natural grain pattern.
Another product we would recommend is Moda Altro Capri Light Feature, a unique pastel-blonde toned prime-grade timber, with a lightly brushed surface giving the planks a refined, modern brightness.
The number one seller in our Urban range, and another good example of a soft blond-toned timber, is Urban Copenhagen. This French Oak has an undeniable Scandinavian look and comes in both a prime and feature grade.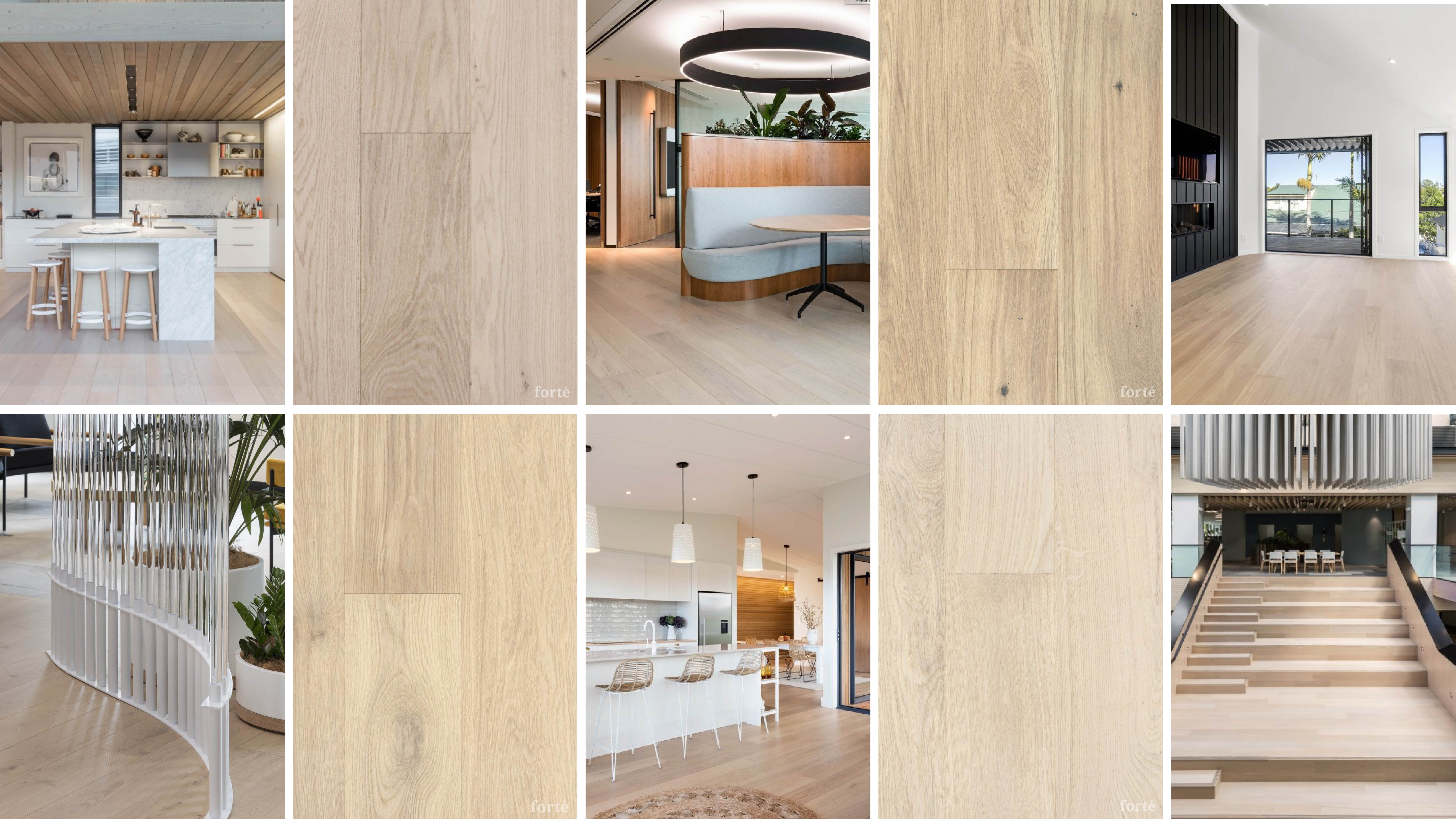 Natural Hues
With sustainability being on everyone's minds these days, the trend of natural wood continues to rise in popularity. Not only does this tone go with nearly everything, making styling your interior easy, but it provides an earthy and tranquil feel to your home.
Our recommendations
When it comes to natural wood flooring, our pick would be Artiste Rustic Picasso, a sandy-toned timber that eminates luxury and warmth. The Oak surface boasts its original saw-markings and is deeply brushed revealing the natural wood grain texture and knots.
Moda Portofino is also a popular choice if a natural look is what you're after. The natural but varying tones of Portofino, inspired by the multi-toned colours of the locals' houses of the Italian Riviera, suit multiple interior styles, whether modern, contemporary or classic.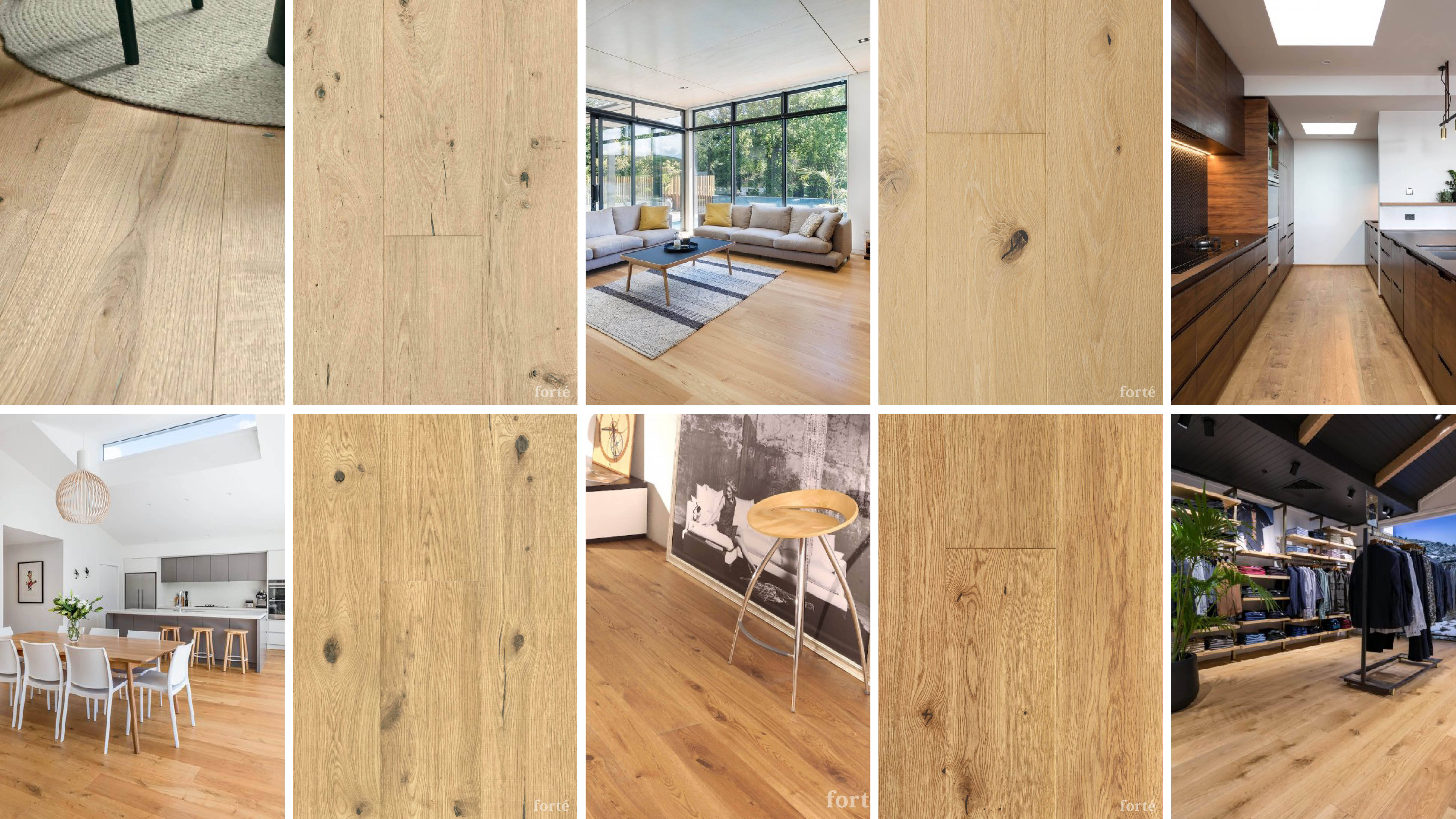 Rustic Grades
Another trend that is growing in popularity and could continue to do so well into the next couple seasons, is allowing imperfections such as knots and general feature to serve as part of the aesthetic of the flooring, creating a more unique appearance.
Our recommendations
Artiste Rustic Da Vinci, with its deeply brushed and undulating surface, original saw-markings and rustic charm, is the perfect example of a rustic grade timber. It is an earthy brown plank, with pale grey highlights, that has been smoked and subtly whitewashed to lighten the overall look and define the woodgrain pattern.
Another rustic grade timber, this time gently brushed with slight texture to lighten the grain, is Atelier Classic. This popular style is timeless, bringing both character and depth to any space.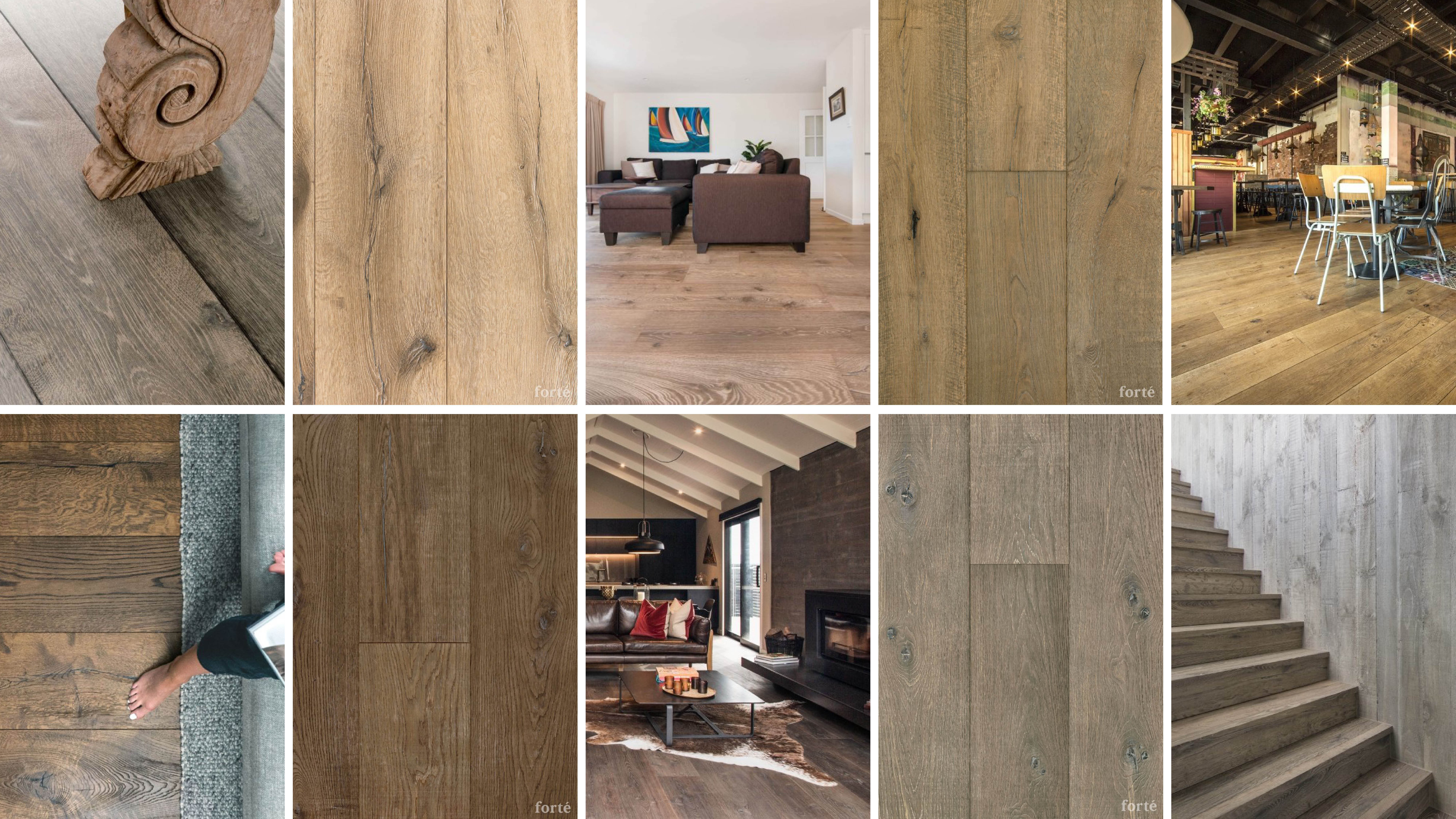 Patterned Wood Flooring & Wide Planks
In 2020 Herringbone and Chevron patterned floors became quite popular and will continue to be well into 2022. A patterned floor adds a unique and captivating element to your home and gives the illusion that the space is bigger than what it actually is.
We are now seeing Herringbone and Chevron pattern designs in not only living areas, hallways and entrances, but in kitchens and bathrooms too.
Wide planks have also become increasingly popular for the upscale and modern feel they give an interior, as well as the way they elevate the aesthetic of the space. Wide plank wood flooring also makes smaller spaces feel a lot bigger and will show off more of the wood's knots, cracks, burls and other imperfections if a feature or rustic grade wood has been used.
Our recommendations
A product which looks elegant and sophisticated when laid in chevron and herringbone pattern is Artiste Rustic Van Gogh. It is a grey-brown timber with a subtle wash effect that will give your home a grounded and calming feel. This rustic-grade Oak has been intensely smoked, giving the wood an extreme dark colour throughout with increased colour variation.
If you prefer a prime-grade timber, then our recommendation would be Moda Altro Capri Light Feature in herringbone (not available in chevron). Capri is known for its refined and modern look and its ability to illuminate any space.
A popular choice of wide plank wood flooring, from our newest collection, is Artiste Refined Vermeer. The 220mm wide plank is a luxurious brown feature-grade European Oak, slightly brushed to softly accentuate the woods natural grain.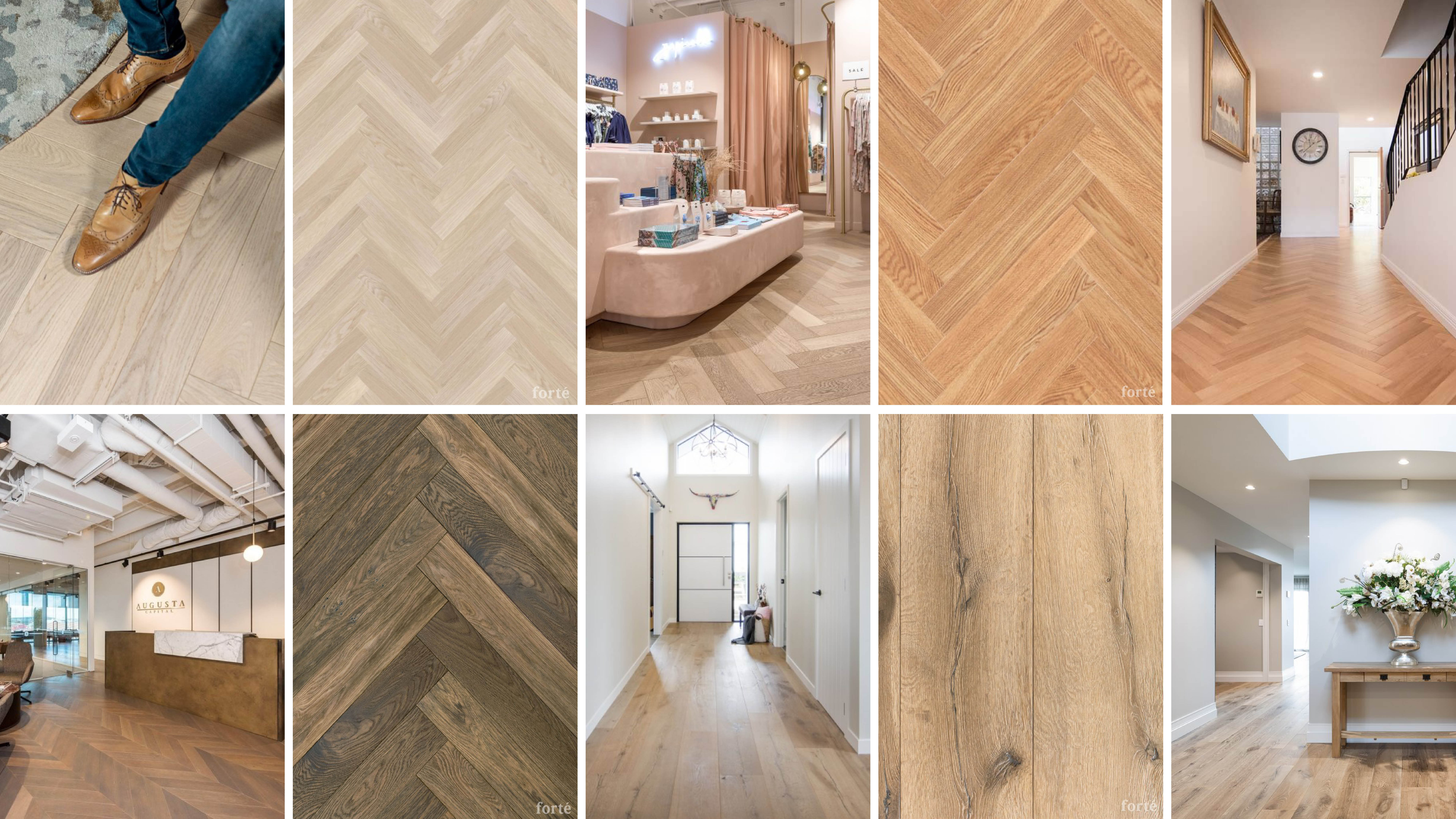 Matching Wood Flooring to Decking
A trend which has become more popular in the last year, and one we do very well, is matching wood flooring to outdoor decking. This creates a seamless connection between the two areas, blurring the lines between the boundaries and creating one large cohesive space.
To get the most out of matching your wood flooring and decking, make sure that the colour and grade of the materials are similar and the planks are laid in the same direction.
OUR RECOMMENDATIONS
Two of our products which work well together are Artiste Rustic Vermeer and Millboard Antique Oak. Both a warm brown colour that exude rustic charm and enrich their spaces.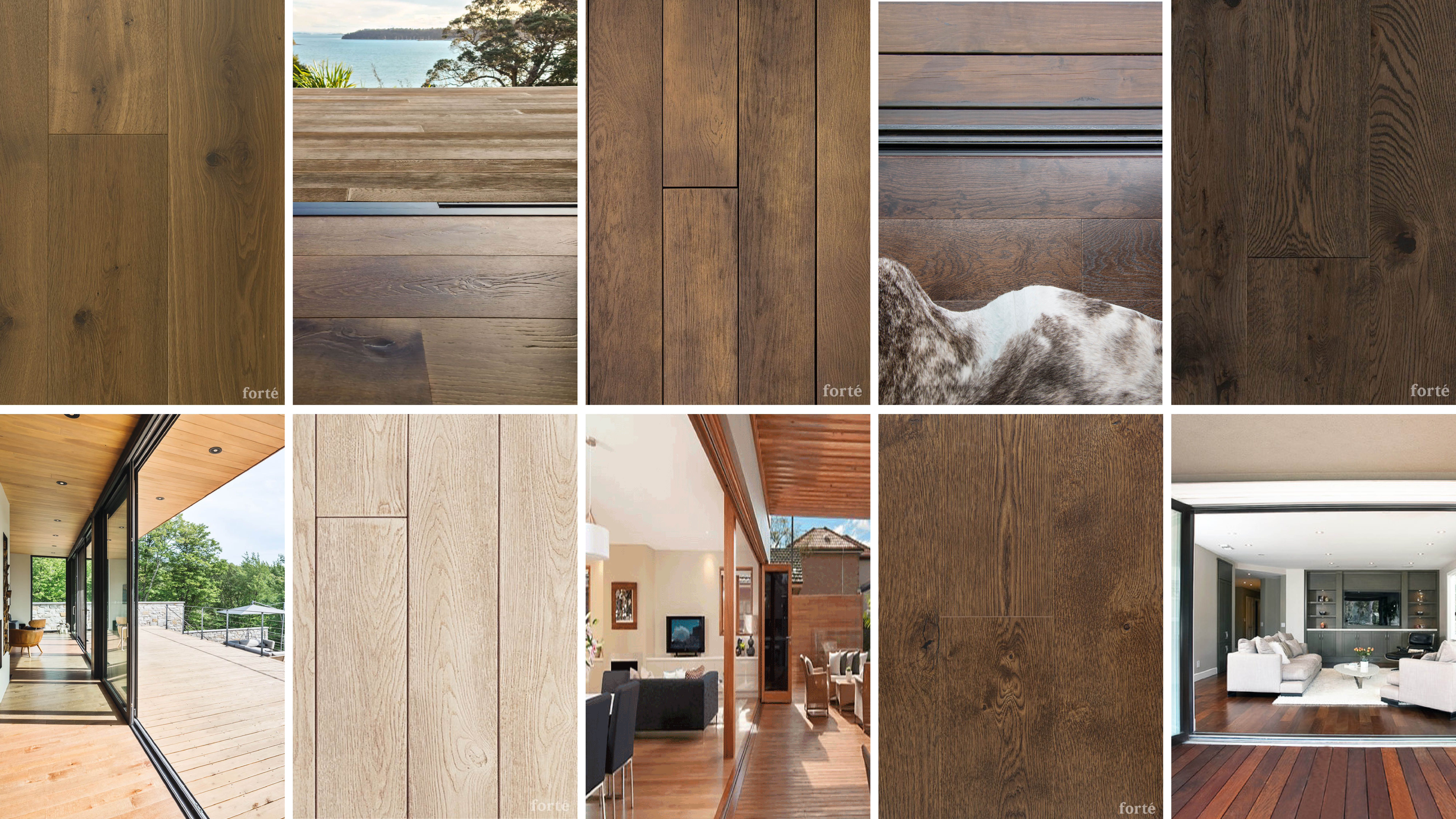 If you have any questions about our products or would like some advice on what colour wood flooring is right for your project, call our team of experts on 0508 35 66 77, email us at [email protected] or live chat with us on our website.