How Much Does Flooring Cost in New Zealand?
Advice | July 16, 2021
We understand that buying a wooden floor is a huge decision, therefore the goal of this article is to empower you with honest and accurate information to help you make the best-informed decision for your home, and to help you budget for your project.
Flooring is the foundation of a home and has a significant impact on the style and feel of the interior. It is one of the larger costs in a project and therefore choosing the right product, and ensuring it is installed to a high standard, is imperative.
There are several factors that influence the supply and installation cost of an engineered wood floor. We'll take you through the different factors that make up the cost as well as explain the differences between a quality wood floor and a budget wood floor.
This brings up a frequently asked question, and one that we are asked daily – what does a wood floor cost and how much is installation?
We sat down with our team of flooring experts, who have over 50 years' experience selling wood flooring, to highlight the current costs of engineered wood flooring and the factors that play a part in the cost of supply and installation.
The cost of engineered wood flooring
Note: The pricing outlined in this article is list pricing, including GST. If you are a trade customer with an account or a professional in the industry and purchase on a regular basis, we offer special rates.

Supply Costs (including GST)
A premium engineered wood floor starts at $150 per m2 and ranges up to $450 per m2, with an average of around $210 per m2 .

Installation (including GST)
Straight lay plank Installation
- Plywood/particle board/existing timber substrate - $75-90 per m2
- Concrete substrate - $90-140 per m2
Herringbone & Chevron Pattern Installation
- Plywood/particle board/existing timber substrate - $115-135 per m2
- Concrete substrate - $135-165 per m2
Average Supply and Install Costs of Engineered Plank
- Glue down on timber subfloor - $285-300 per m2
- Glue down on a concrete subfloor - $300-350 per m2
E.g. For 100m2 of Premium Timber Flooring supplied and installed by a craftsman will cost on average $28,500 - $35,000 including GST.
10 Factors that affect the cost of engineered wood flooring
1. Warranty and support.
2. Designed for NZ climate conditions.
3. Wood Grade and sustainability.
4. Veneer thickness.
5. Width and length of the plank.
6. Prefinished vs sanding and finishing on site.
7. Stain colour and special effects.
8. Durability of the protective coating.
9. Glue down vs floating installation.
10. Quality of the core and base layers.
These 10 points are explained in detail below:
1.
Warranty and Support

A big factor in wood flooring prices is the warranty. When looking at flooring from suppliers who offer cheap flooring options, make sure you ask them what their warranty covers. A wood floor is a big investment, especially when using a glue-down installation method, and if something goes wrong during the installation you will need the support and reassurance that the problem will be fixed. If you are purchasing from an overseas supplier or cheap suppler, ask yourself – who will turn up to fix the problem and will they back up their product if something goes wrong?

We are with you every step of the way, right from the initial contact to the installation process and through to the aftercare of your wooden flooring. All our floors have a 25-year structural warranty, so you can rest easy knowing that the big flooring investment you make in your home will be covered. We also stand behind our coatings and if there is an obvious fault with the product then we will repair it.

Something we often hear from clients is that they have seen a similar looking product to ours from another supplier for half the price at around $100 per m2. There is usually a good reason for this, and the reason being that the product is of inferior quality, opening you up to a number of potential issues that will cost you more in the long run.

There will of course always be cheaper products with cheaper installation on the market, but it comes at a cost. A wood floor is an important aspect of your home taking up large surface areas and should be thoroughly thought through before installing.

We have been in the business of designing and sourcing wood flooring since 1995 and have learnt not to take shortcuts or compromise on quality. Unlike many other products in the market, all our products have been run through rigorous research and development testing, with all shipments going through strict quality control checks, ensuring the very best quality products get delivered to your door.
2.
Designed for NZ Climate Conditions

Our products have been specifically designed for the New Zealand environment, from the subtropical summer weather in the Far North, to the frosty low degrees of winter in Queenstown. Every aspect of each product has been considered, including the moisture level in the plywood, the veneer thickness, the colour of the filler in the knots, the percentage of short lengths and of course, the protective coating on your flooring, which is why our products are some of the best out there.
3.
Wood Grade & Sustainability

When a supplier refers to the character, feature, prime, rustic, light feature, select or clear of wood flooring, they are referring to the grade of the wood. These are names that represent the number of imperfections in the wood such as knots, cracks, burls, and sapwood and have an impact on the price of the product.

For example, the more knots, cracks, and imperfections the wood has (character, feature, rustic grades), the lower the cost will be. For wood that is clear of imperfections (select and prime grades), you will be paying a more premium price as the wood is harder to come by. To put that into context, there is only a 10% yield of prime or select grade oak in one tree. In New Zealand, however, grades such as rustic, feature and character are more popular as many people prefer a more natural looking floor.

Sustainability also plays a big role in the cost of wood flooring as this will ensure you have a wood floor that has been sourced legally and milled in a sustainable way. Engineered wood uses approximately one third of the amount of slow-growing hardwood resource compared to solid wood of the same dimensions.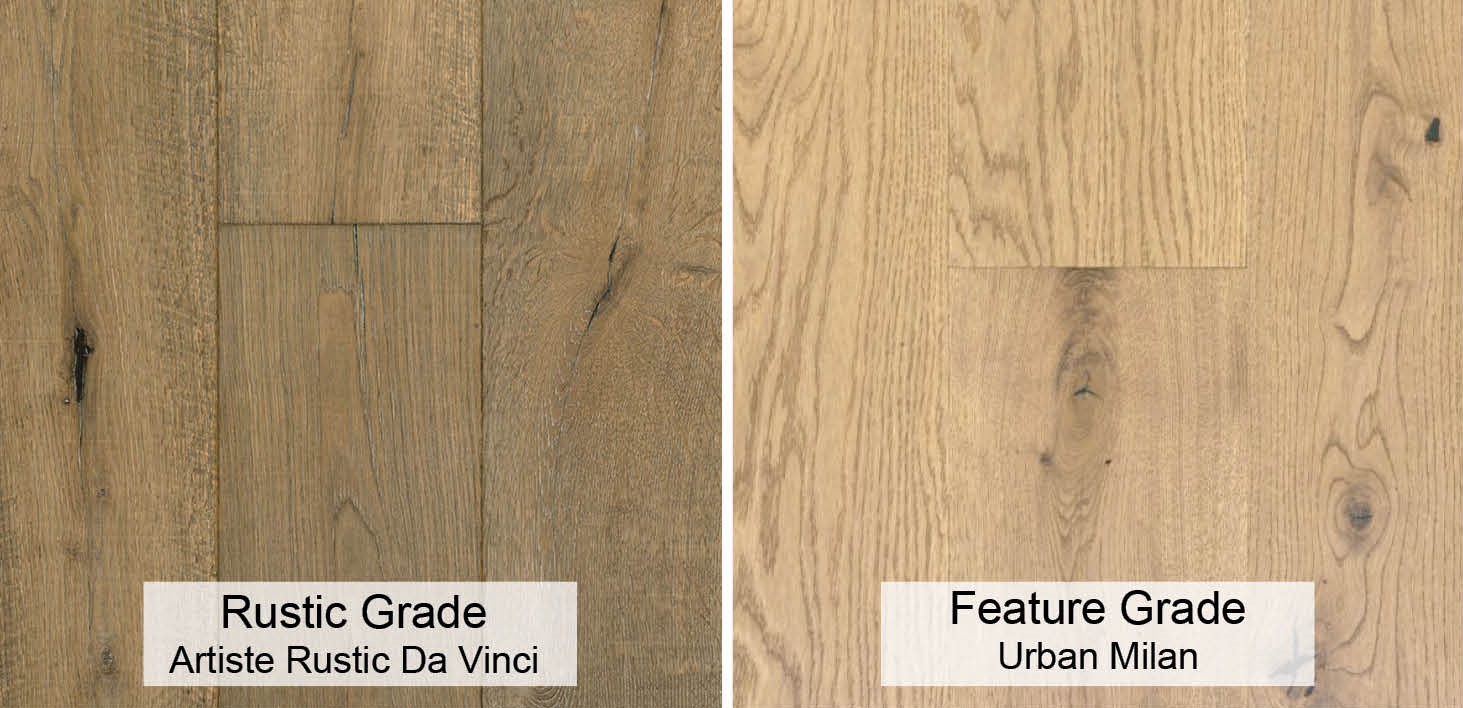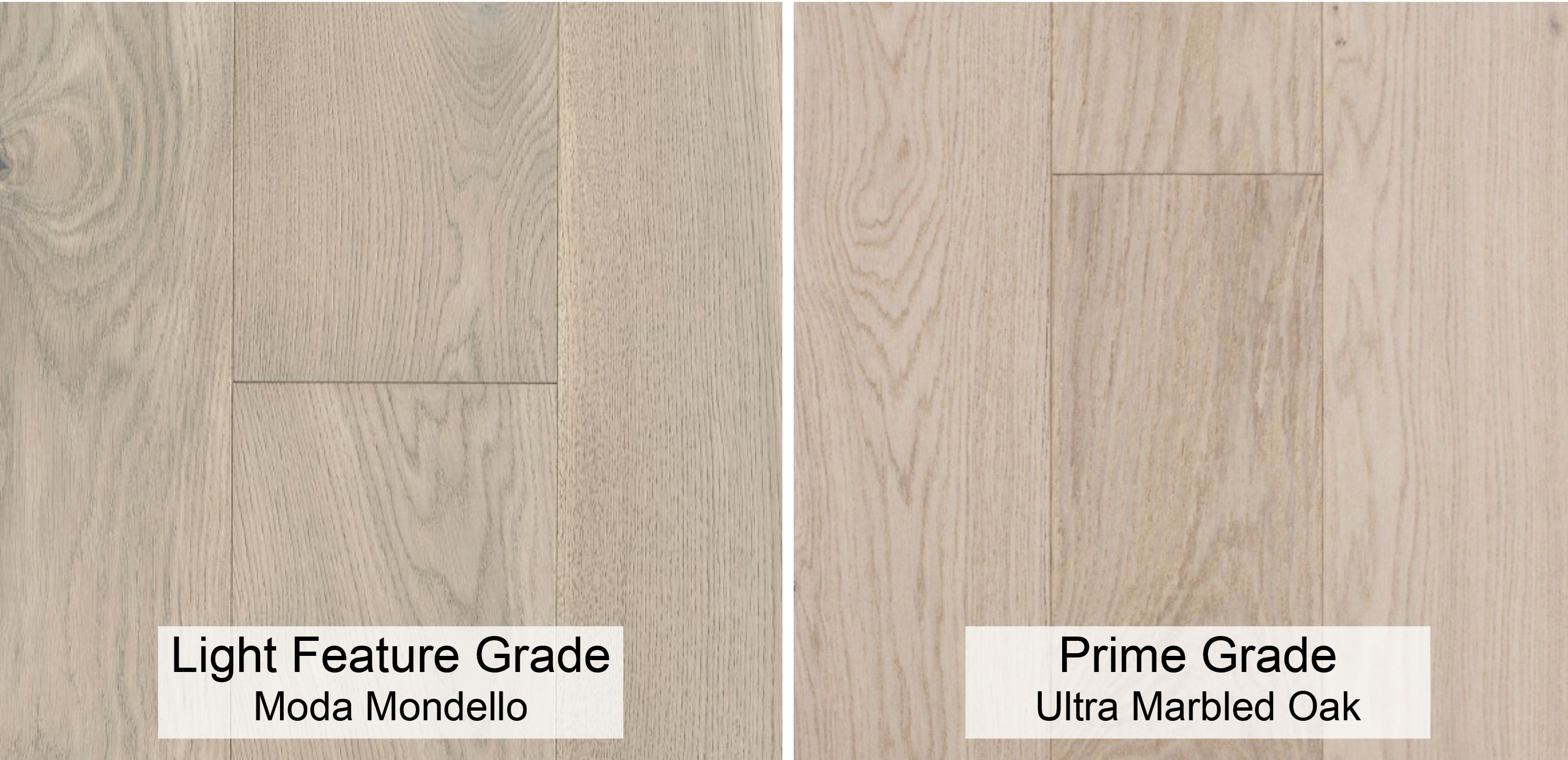 4.
Veneer Thickness

The veneer thickness refers to the layer of timber on the top of the floor. The thicker the veneer, the more re-sands it can have, the more it costs. Most engineered wood flooring has between a 2mm and 6mm veneer of real wood, backed with a multilayer core to keep it stable. The most common veneer thickness is 4mm, giving it enough timber for up to 3 re-sands over the lifespan. If the veneer is too thin it will not be able to be re-sanded, reducing the lifespan of your flooring.

5.
Width and Length of the Plank

Engineered flooring comes in planks with a tongue and groove or locking joining profile. If you are looking to have longer and wider wooden planks installed, then be prepared to pay more. The wider and longer the plank is, the larger and older the tree must be and the less imperfections the plank must have, making wide planks and long planks more expensive.

The standard width is 190mm as it is aesthetically pleasing in most spaces, not too wide, not too narrow. The standard length of plank is approximately 2.2m which is efficient for shipping and keeps the price reasonable.
6.
Prefinished vs Sanding and Finishing on Site

Prefinished means the floor comes, pre-coloured and coated which is done in the factory meaning no additional coats once it is installed. It is helpful to know that a prefinished floor is more cost effective and gives a better finish than if the wood was sanded and stained on site. All our floors are prefinished in the highest quality matte lacquer, giving them ultimate durability, a higher level of finish and reducing the down time on site.

It is less common these days to have an unfinished wood floor installed that needs to be sanded and stained on site. This adds additional costs due to the labour-intensive time spent sanding and finishing. The biggest risk when site finishing a wood floor is that the colour will not always represent the sample that you chose. In addition, there is a high risk of the sander leaving sanding marks on the floor that will show up when the stain is applied. The only way to remove sanding marks is to re-sand the whole floor and apply the stain again, resulting in more costs.
7.
Stain Colour and Special Effects

What you may not know is that it can take multiple layers of coloured stain to achieve a certain coloured wood. With quality pre-finished flooring, it is not uncommon to have 7 or more layers of coating consisting of primers, pore fillers, base coats, and top coats.

Generally, the more complex the colour, the more layers of stain required to achieve the desired colour. This will result in a higher cost as more materials are being used. However, it also results in more beautiful colours and better coating durability.

Special effects also impact the cost of wood flooring as hand-crafted bevels, rounded knots, hand-scraping and a sawn effect can be achieved, however this will increase the price due to increased labour.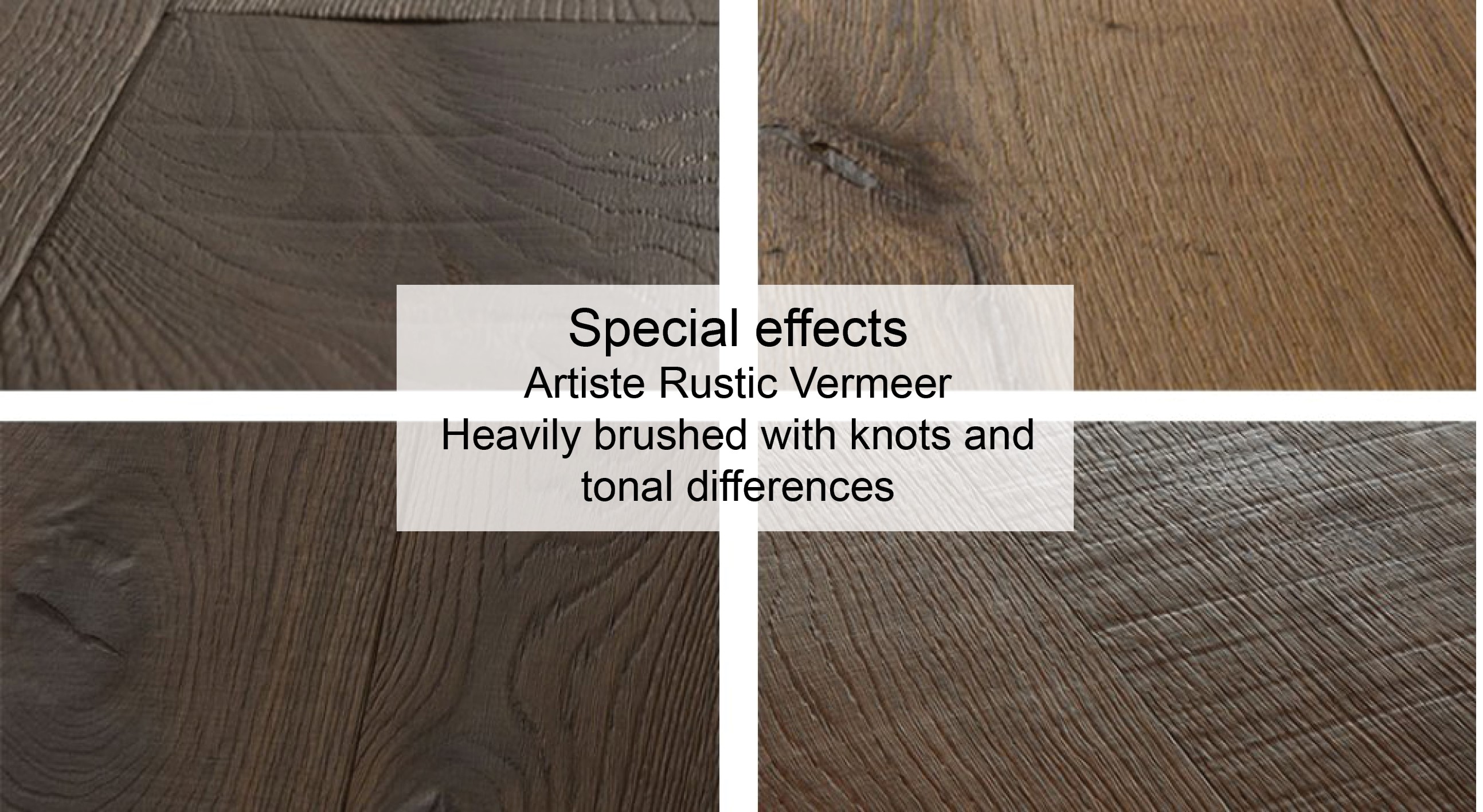 8.
Durability of Protective Coating

Engineered flooring is always finished with a protective coating to protect from damage and moisture. This is one of the most important aspects of your flooring as the final protective coating determines the longevity of your flooring and how it will wear.

There are many different types of coatings available, but main ones used in New Zealand are polyurethane, lacquer, and hard wax oil (these come in many different brands). Generally, the more coats that are applied, the better protection there is from scratching and staining. Therefore, the method of application and the amount of coats applied will determine the cost.

Most of our flooring collections use a low VOC water-based polyurethane, which gives the look of natural oil with added durability and a better resistance to water.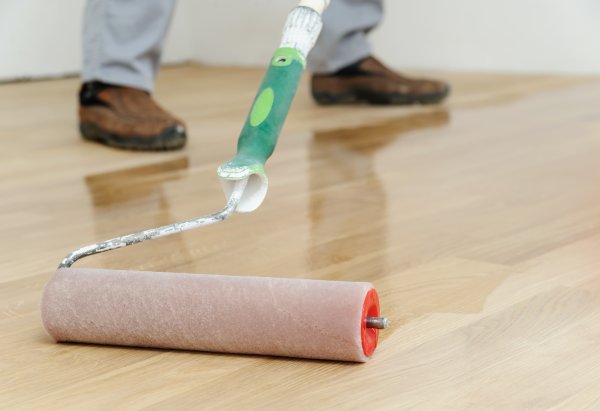 9.
Glue Down vs Floating

With many years' experience supplying and installing engineered wood flooring, we can say without a doubt that glue down is the best installation method, and the only method that we recommend. Not only does a glue down engineered wood floor give you a superior sound and feel in your home, it adds longevity to the lifespan of your flooring.

Depending on the thickness of the veneer, an engineered wood floor can be re-sanded up to 5 times, giving it a lifespan of 30 – 50 years. What many people may not know is that a floating engineered wood floor cannot be re-sanded as it sits on a foam underlay, as opposed to being fixed directly to the substrate, causing the sander to bounce and leave sanding marks on your floor. Because of this, it cuts down the lifespan of your flooring by decades.

So, although a glue down installation costs more than the floating installation method, it is very much worth the investment due to the increased longevity of the flooring.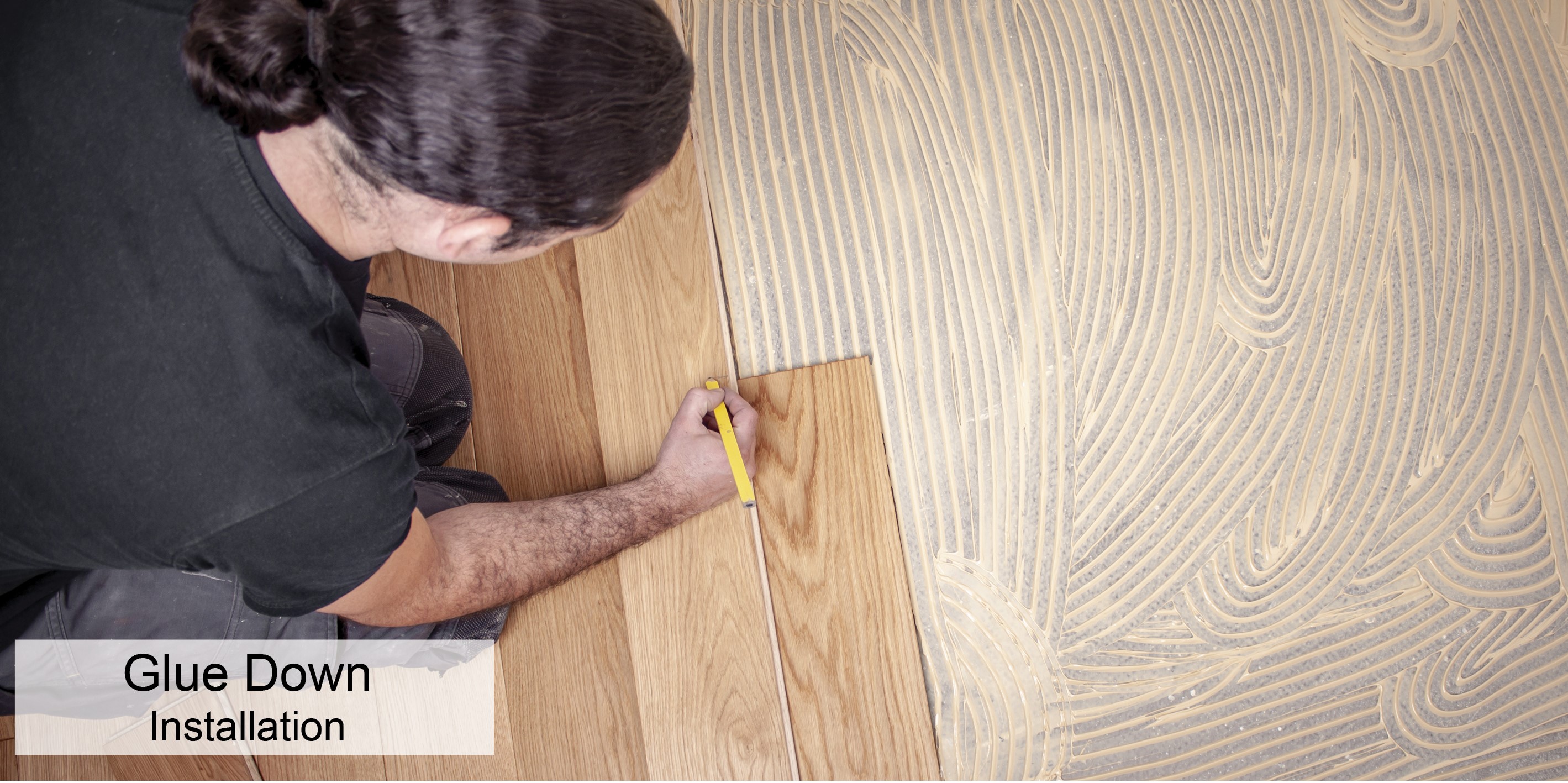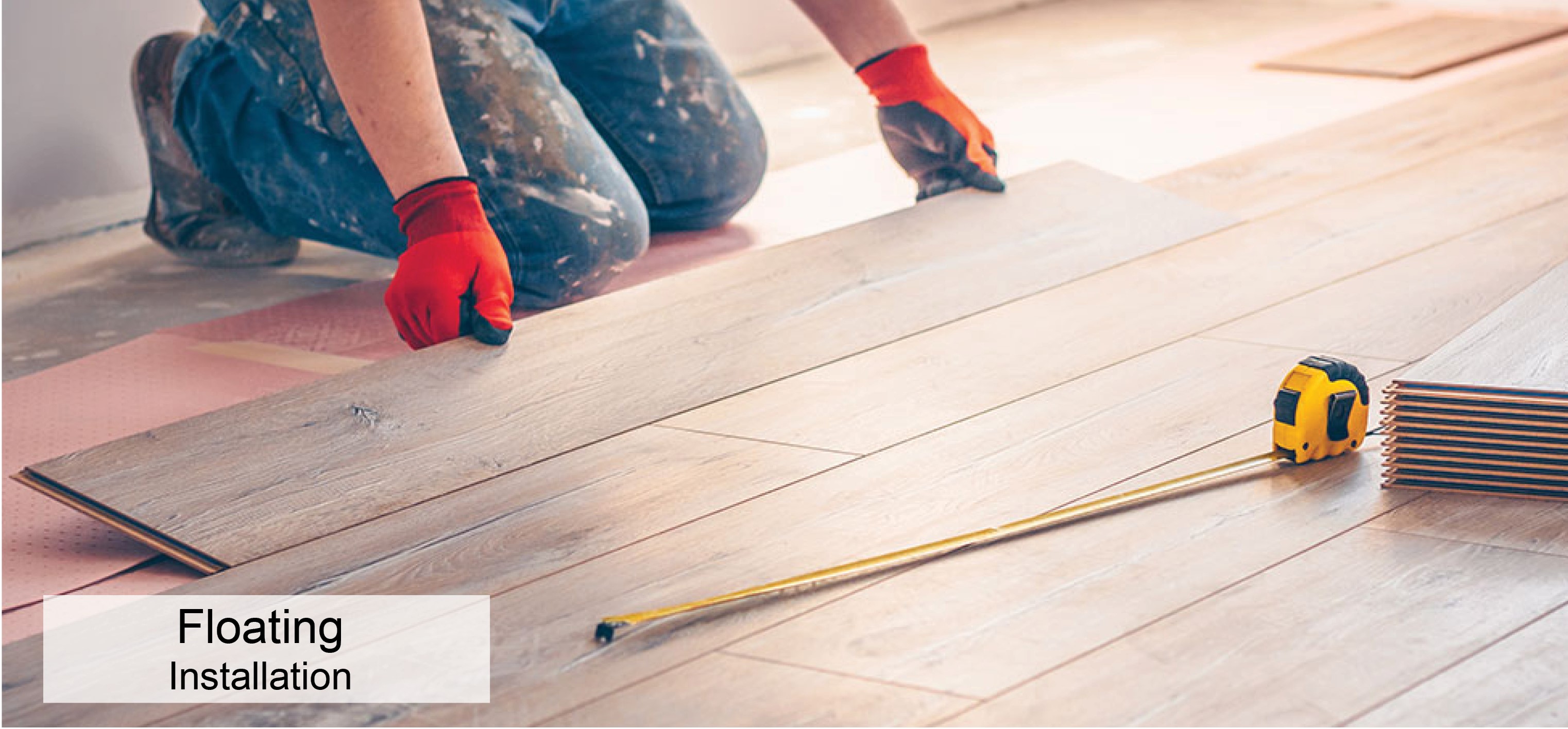 10.
Quality of core and base layers

There are several different species of base layers that suppliers use, some of these include birch, popular, spruce, pine and hevea. The most popular and best quality engineered wood flooring backing, or base layer, is cross directional birch plywood which is slightly more expensive than the rest.
Wood Flooring Installation
Installing wood flooring is a craft and a wood floor will only be as good as the person installing it, which is why we recommend using our team of approved craftsmen who are located all over New Zealand.
There are two factors that impact the cost of installing a wood floor, the first being the substrate and the second is whether you are installing a straight lay plank or a patterned floor.
If the wood floor is being installed on a concrete substrate, then you may need to have a moisture barrier applied to stop the moisture coming through the slab. The moisture barrier is what makes installation on a subfloor more expensive. When having a patterned floor such as chevron or herringbone installed, you can expect to pay more for installation as it is a labour-intensive process that takes a lot longer than installing straight lay planks.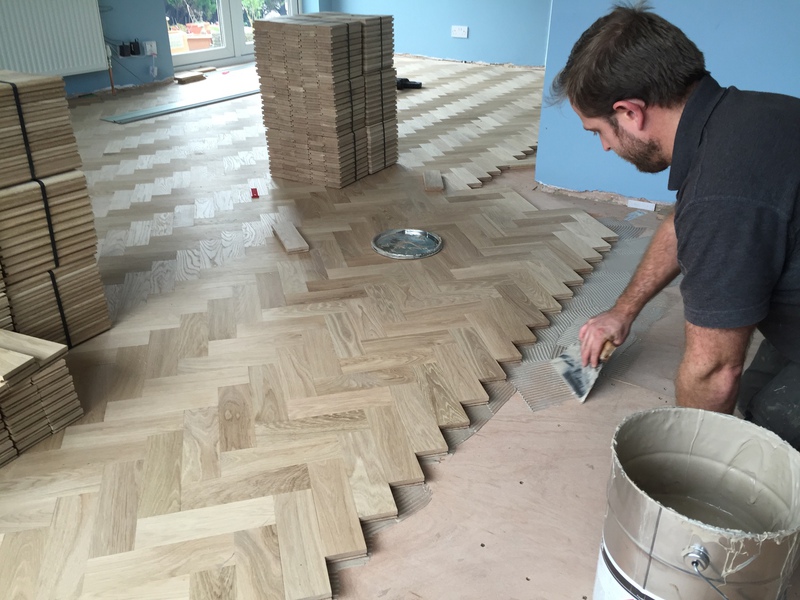 Summary
We have scoured the globe in search of the best engineered wood flooring, and we can confidently say that our collection is world leading, both in style and quality.
Over the years we have been through many factories across the world, and we have a good understanding of how great quality engineered wood flooring is made. We have attended many flooring trade shows and have spoken to hundreds of suppliers, agents and factory owners, where we have hand selected the best partners who we work closely with in designing products that are best suited to the climate conditions we have here in New Zealand.
We have high standards and have found that international testing has been inadequate, therefore we have written our own tests to ensure all our products meet these standards before bringing them to market.
If you have any questions or would like more information on our pricing, please call our team of experts on 0508 35 66 77, email us at [email protected] or live chat with us on our website.
*Prices mentioned in the above article are only an estimate and are applicable as of June 2021. They are subject to change at any time.