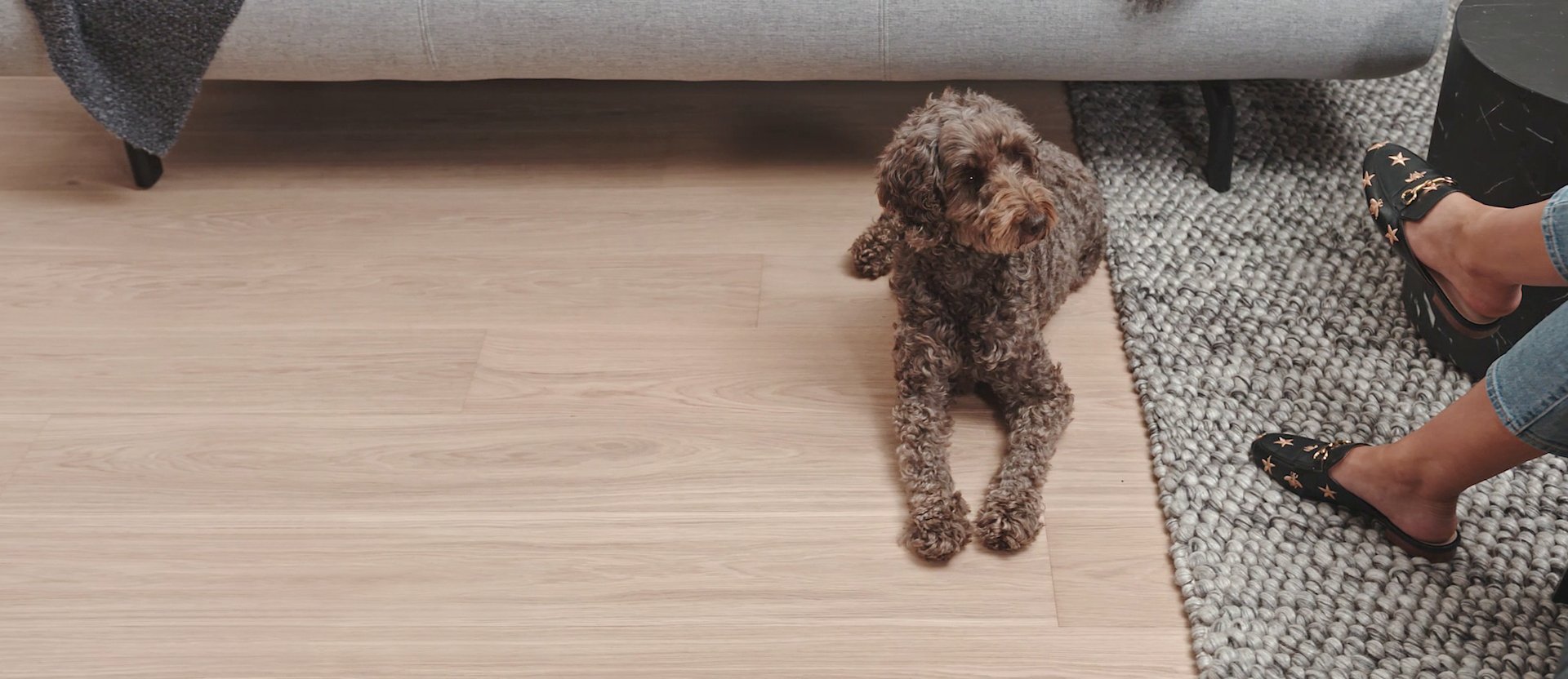 If you're looking to have wood flooring installed in your home but are a dog mum or cat dad and wonder whether engineered wood flooring would be a good option for your family – the short answer is yes. However, no matter how durable your floors are, there is the potential for them to get scratched or damaged by your pets if not cared for correctly.
We'll walk you through the best engineered wood flooring options for your pet-friendly family and list some of the preventative measures you can take to minimise the risk of damage and ensure your pets and wood floors can co-exist easily.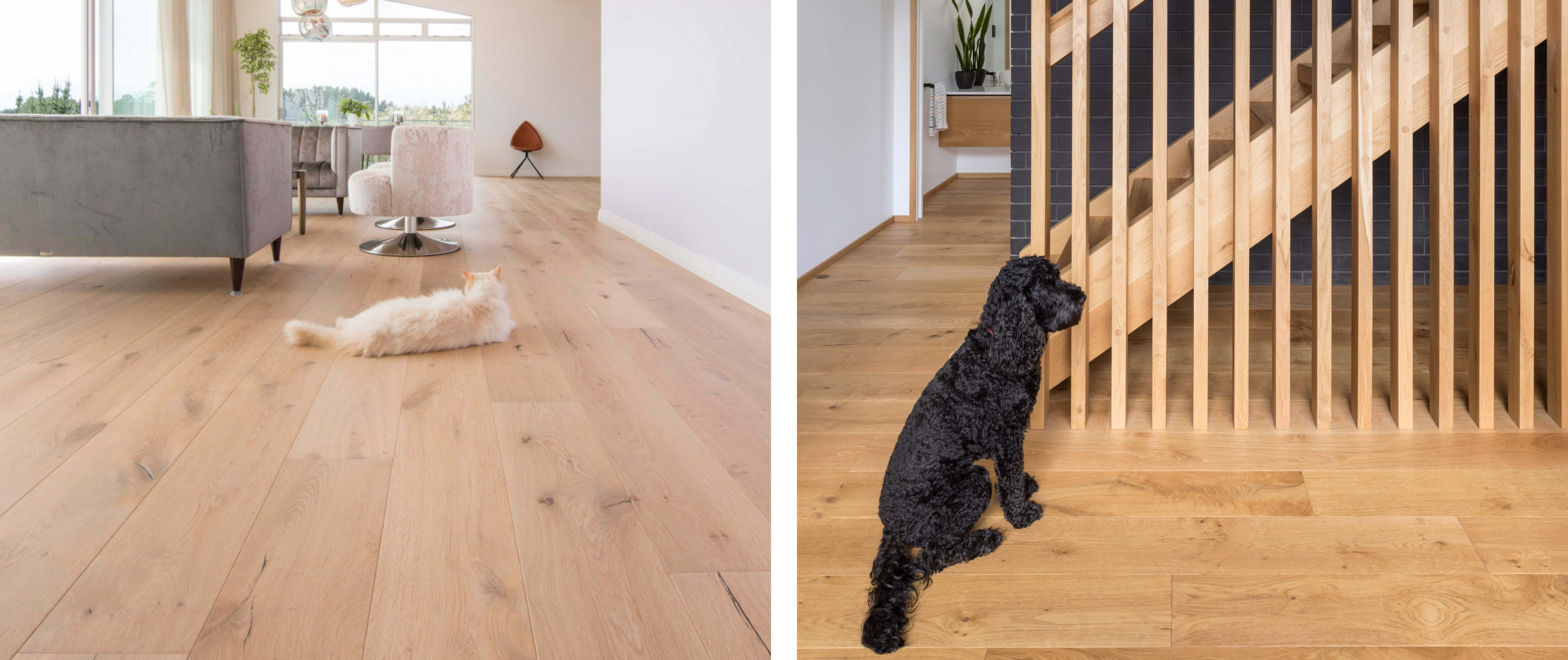 Minimising the risk of damage
1.
Keep your pets' nails trimmed/clipped

Overgrown claws on a pet can potentially cause a great deal of damage to your wood floors. Make sure you keep your pets' claws trimmed or clipped to help minimise the risk of your floor being scratched, especially if your pets are heavier, have high energy levels and spend a lot of time indoors.
2.
Keep your pets' paws clean

Dirt, grit or abrasives carried in by your pets' paws have the potential to scratch your floors if walked over or if items are dragged across grit lying on your floor. Keep your pets' paws and claws clean by wiping them down before they enter your home or by placing a mat at the door where your pet is most likely to enter/exit your home.
3.
Toilet Training

Accidents happen, but it is imperative that the mess is cleaned up quickly and the area is wiped/mopped to ensure no residue is left on the floor. Pet urine contains high ammonia levels that can penetrate deeply into the timber and cause permanent damage if left unattended for too long. If this is the case, the planks may darken, dull or discolour and may need to be lifted and replaced. If smaller amounts of ammonia have caused damage to the finish but have not penetrated the wood, your floor can be re-sanded and finished.

Make sure your pets are correctly toilet trained by:
Using training pads when appropriate – these have an absorbent surface with plastic backing to prevent liquid seeping through the pad and onto the wood flooring underneath.
Installing a pet door so your dog or cat can take themselves outside to go to the toilet.
4.
Use a tray for food and water bowls

A pet's eating station is usually messy after feeding time, so be sure to place their food and water bowls on a tray to help minimise/prevent spilled puddles of water or food splashing onto the floor.

Their eating area should be cleaned regularly as moisture can sit under the food mat and damage the floor underneath. Make sure the mat is waterproof and breathable (not rubber or latex) to ensure the flooring beneath the mat doesn't discolour or dull.

Alternatively, place their bowls in an area that doesn't have wood flooring, such as a tiled or concrete space.

Note: Dog saliva in water bowls also has high ammonia levels. If spilled water is left for too long on a wood floor, it could potentially stain or discolour the floor.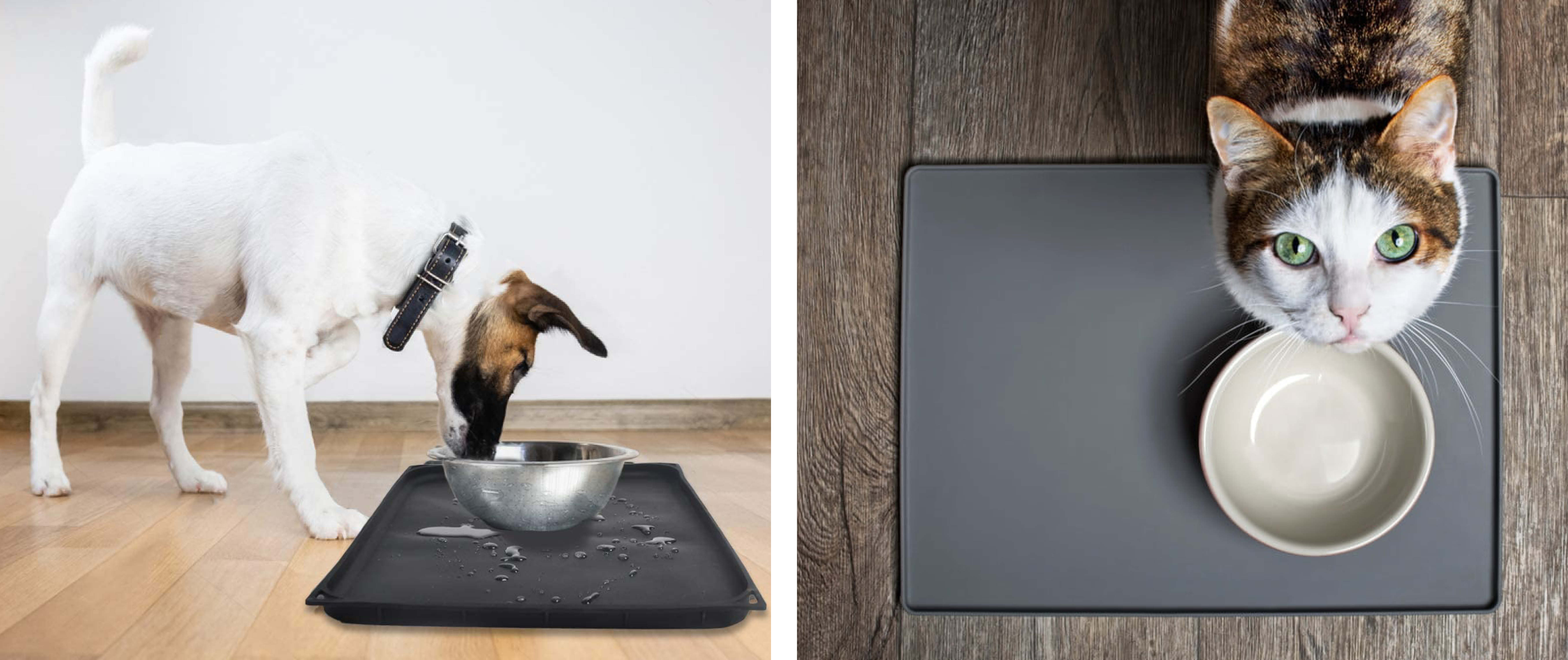 5.
Regular cleaning

A regular cleaning routine is necessary to keep your wood flooring in tip-top shape. Make sure your floors are vacuumed and mopped weekly to get rid of fur/shedding, dirt, and dust and ensure a higher resistance to odours and smells.
How to fix shallow dents and scratches caused by pets
For a quick fix, remove the outer shell (and any of the brown paper-like coating) of an oily nut, such as a Brazil nut. Rub the nut across the scratch, up and down, and side to side. The natural oil in the nut, together with small pieces of flesh that scrape off during the process, should fill most shallow scratches. Wipe with a clean rag to remove any excess oil.


To help disguise the 'white mark' of a light scratch, apply a clear polyurethane to the scratch using an artist's brush.


A car scratch repair pen can be used for very shallow scratches - it will not fill the scratch but can provide a coating like polyurethane or lacquer. Draw over the scratch with a Mantis scratch repair pen, wipe off any excess liquid from the edges of the scratch if required, and allow to dry.


A wax pen is a longer-term solution for most scratches, from minor to serious. Lightly sand the area to be repaired with an abrasive pad to ensure the adhesion of the wax. Sweep the wax pen over the scratch several times. Burnish the surface with rags to remove any wax pen excess.


Furniture repair pens can be useful when a scratch has removed the floor colour. Find a furniture repair pen that matches the colour of your floor and colour over the scratch you wish to re-colour. A car scratch repair pen may be used after the furniture repair pen to seal the colour.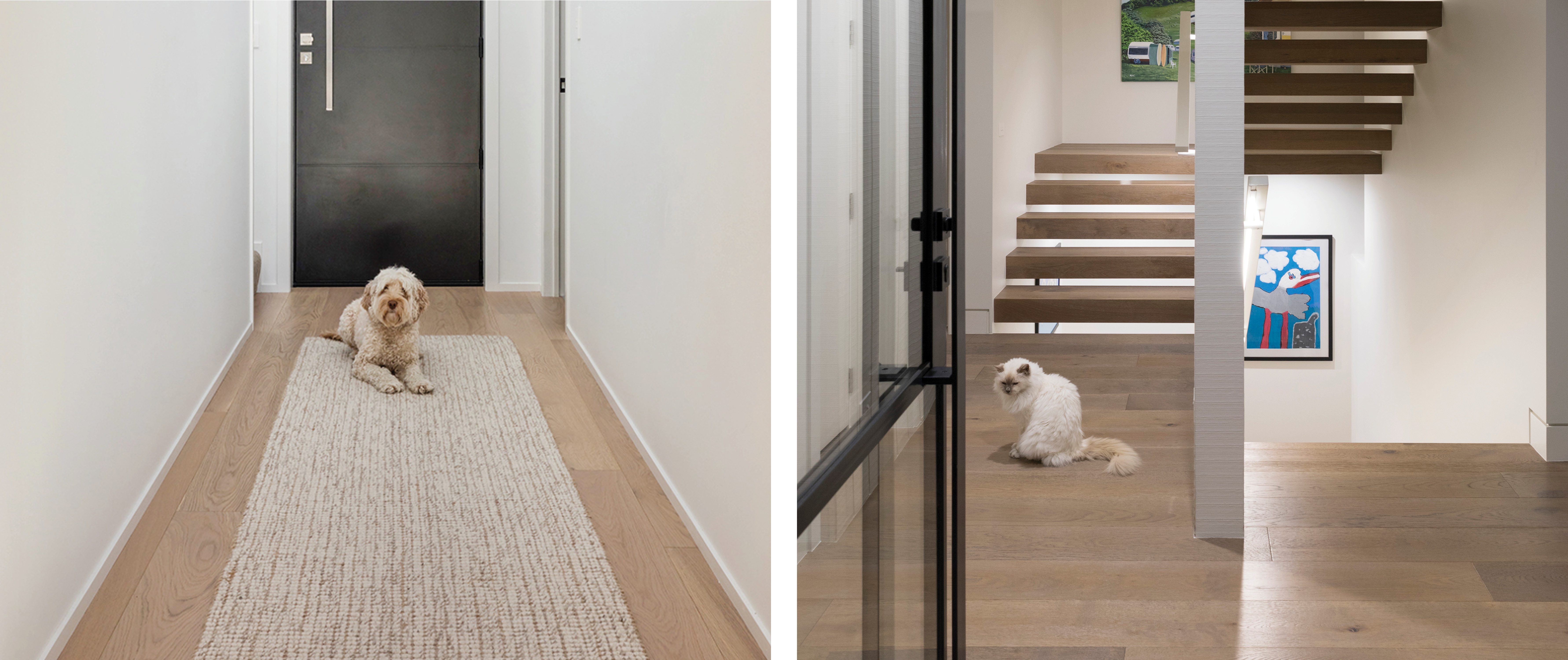 Tips for choosing the best wood flooring for your pet-friendly family
A good wood flooring option for a pet-friendly home is a lighter coloured wood floor in a more rustic grade. Choosing a lighter wood with a fair amount of grain will allow shallow scratches and dents to blend into the flooring, making them less noticeable.
Recommended Forté products: Artiste Rustic Picasso, Atelier Classic, Villa Cashmere, Villa Limestone

Flooring that is rough sawn, hand-scraped or has a brushed surface can also help disguise scratches and dents caused by pets in your home. A surface that is already uneven from the rougher texture of the floor ensures the appearance of scratches will be minimised, as opposed to that of a timber floor with a smooth surface.
Recommended Forté products: Villa Chai, Artiste Rustic Da Vinci, Artiste Rustic Van Gogh

Some wood species are 'harder' than others, with many NZ native timber, such as Kauri and Rimu, being more prone to denting and scratching – even with a quality finish applied. European, French and American Oak are good examples of durable timber, making them ideal wood species for long-lasting timber floors.
Note: All our Forté floors are made from genuine European Oak.
Why choose an engineered floor with pets?
Wood flooring with a lacquer finish is extremely easy to maintain as most spills and stains sit on the surface of the flooring and only require a damp cloth to clean them up. For best results use a good quality wood cleaner such as our Bona Wood Floor Cleaner.
Shallow scratches and dents on an engineered wood floor is easy enough to repair yourself with the use of a wax pen or scratch repair kit.
Hygiene and resistance to odours
Wood flooring is a lot more hygienic than carpets when you own pets. Not only is it easier to clean up urine and spilled water or food off a wood floor, but it is more resistant to odours too and less likely to house parasites such as fleas and ticks.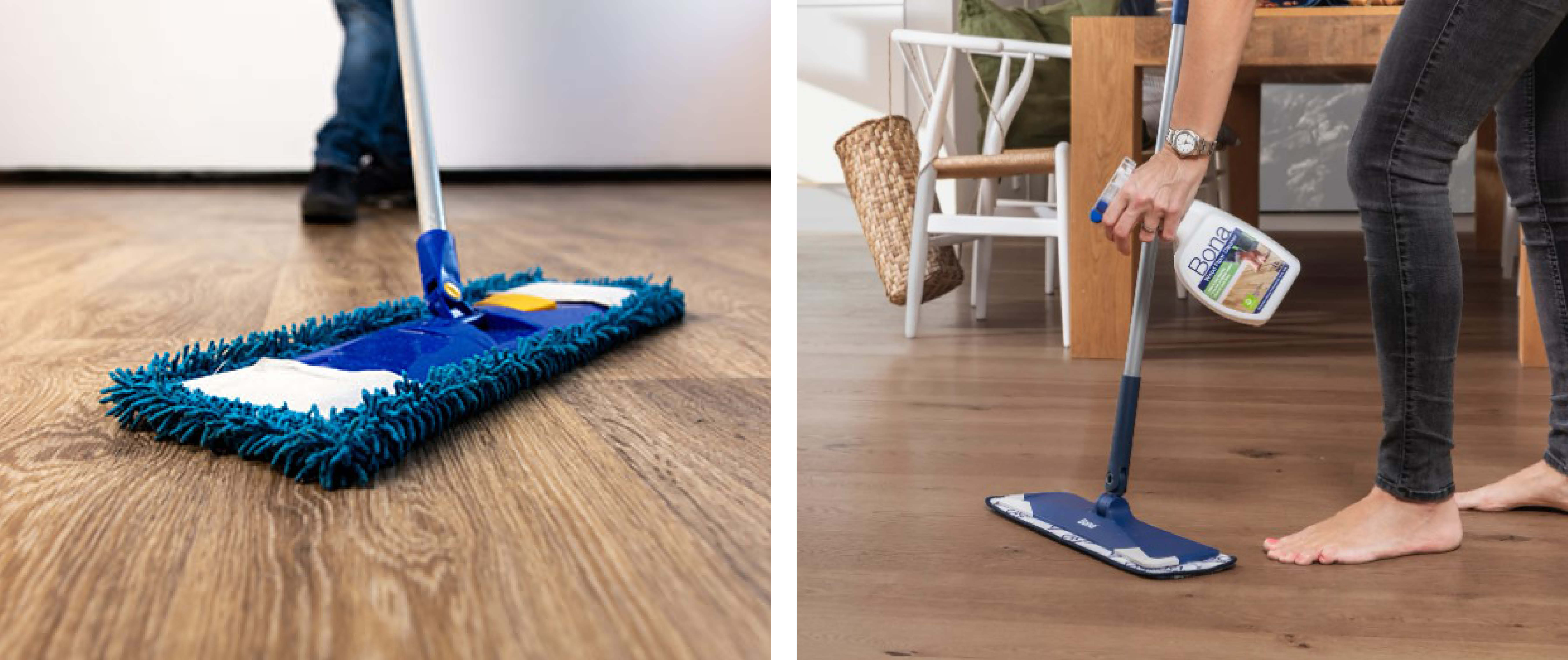 If you have/are considering installing an engineered wood floor in your home and would like more information about the cleaning process or fixing scratches and dents, download the Forte Care Guide here or read the article on our website.

Alternatively, to discuss any aspect of care and protection of your Forté floor, email our Forté Care Team at [email protected]