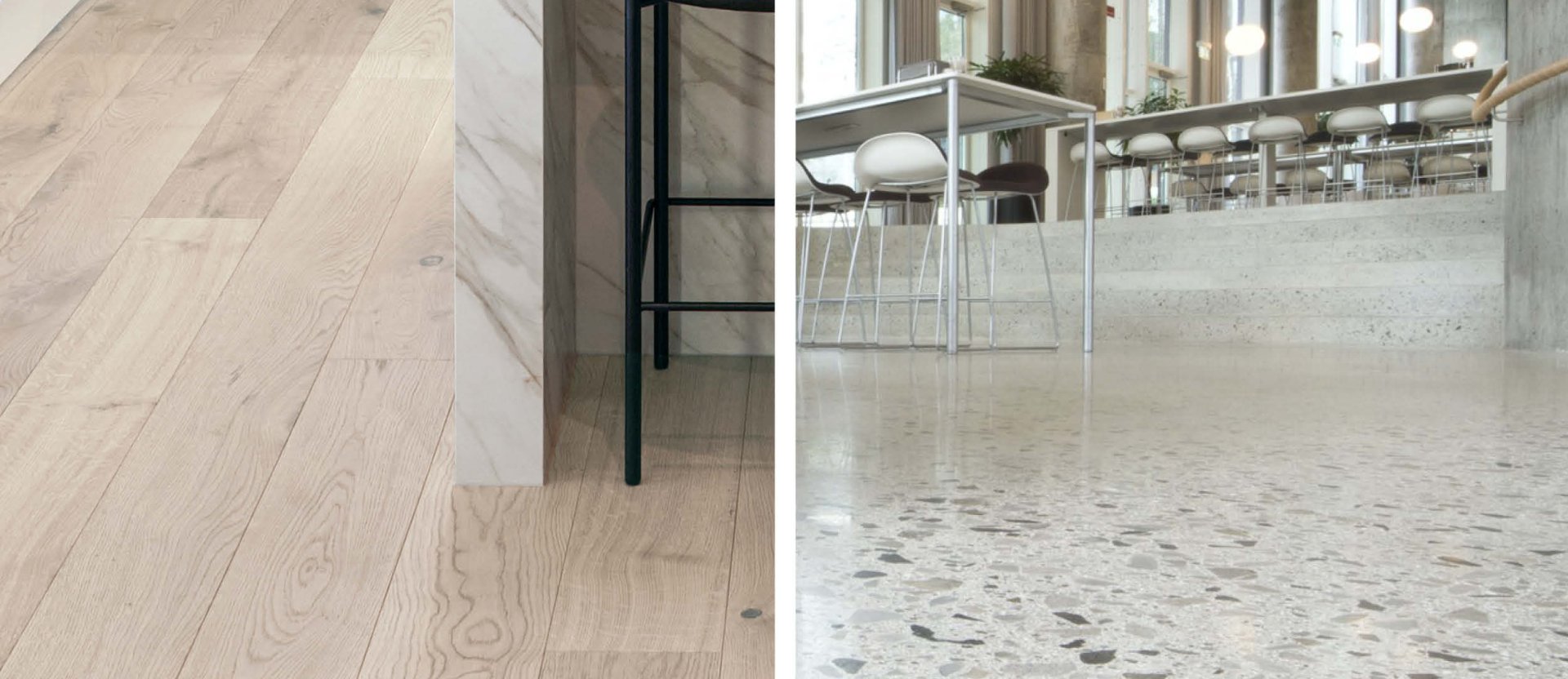 We've previously compared engineered wood flooring to solid wood flooring (you can read the article here), but how does engineered wood fare with polished concrete?
Below we'll walk you through both flooring surfaces, comparing the cost of each material, installation, durability and the colour and finish to give you an overall idea of which flooring surface suits your needs and to help you make the best decision for your project.
What is Engineered Wood Flooring?
Engineered wood flooring has a wear layer/veneer (top layer) of solid hardwood which is fixed to a multi-layered core of stable timber. This core backing is usually made from multiple layers of more readily available timber such as plywood, pine or hevea that are glued cross-directionally and pressed together.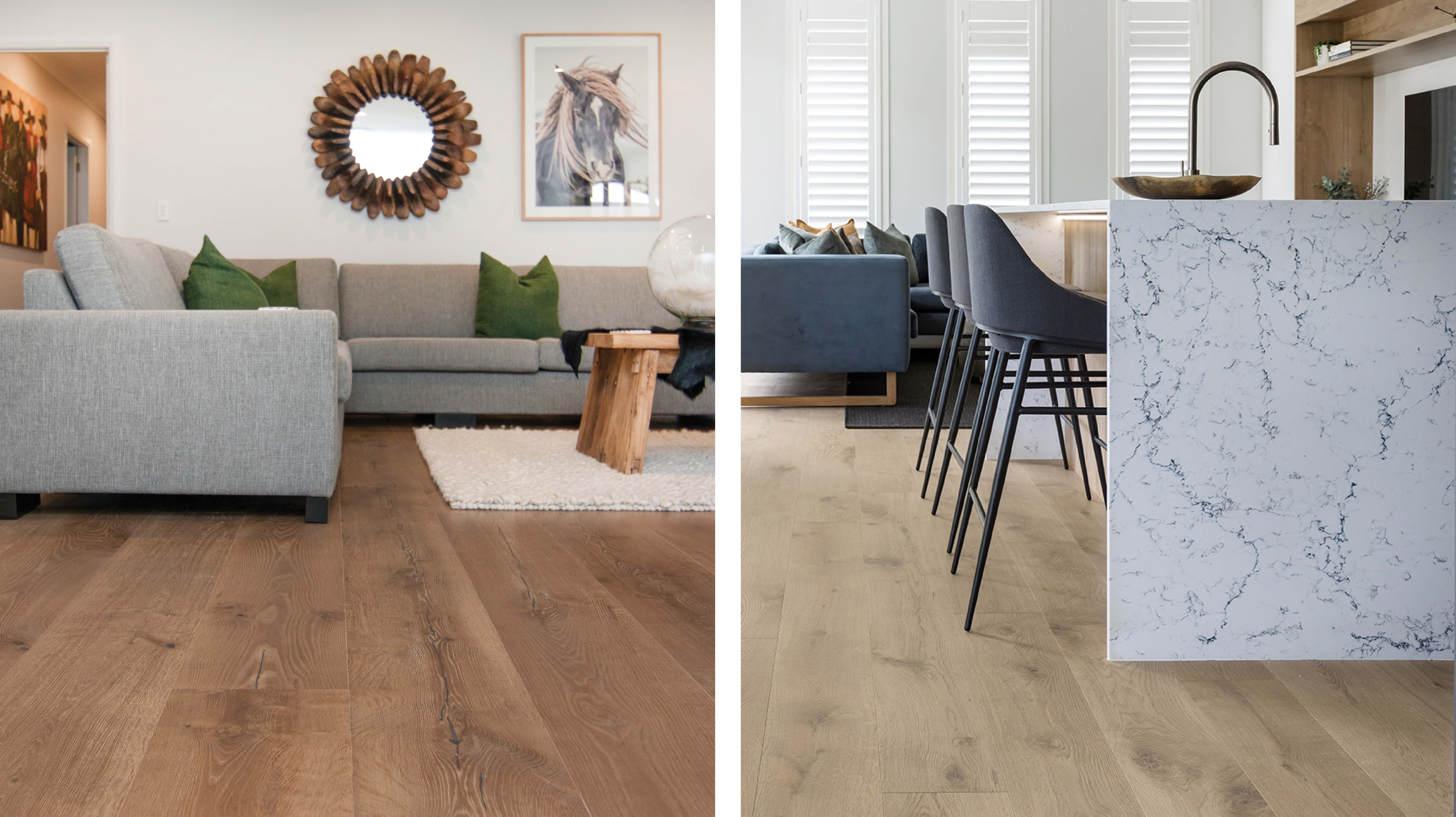 Installation
We only recommend a glue-down installation method. This involves gluing your engineered wood flooring directly to your sub-floor. An even layer of glue is spread across the sub-floor using a notched trowel, to which the planks are then applied.
Engineered wood flooring is typically pre-finished. This eliminates the need for sanding and finishing on-site, and makes for faster and easier installation.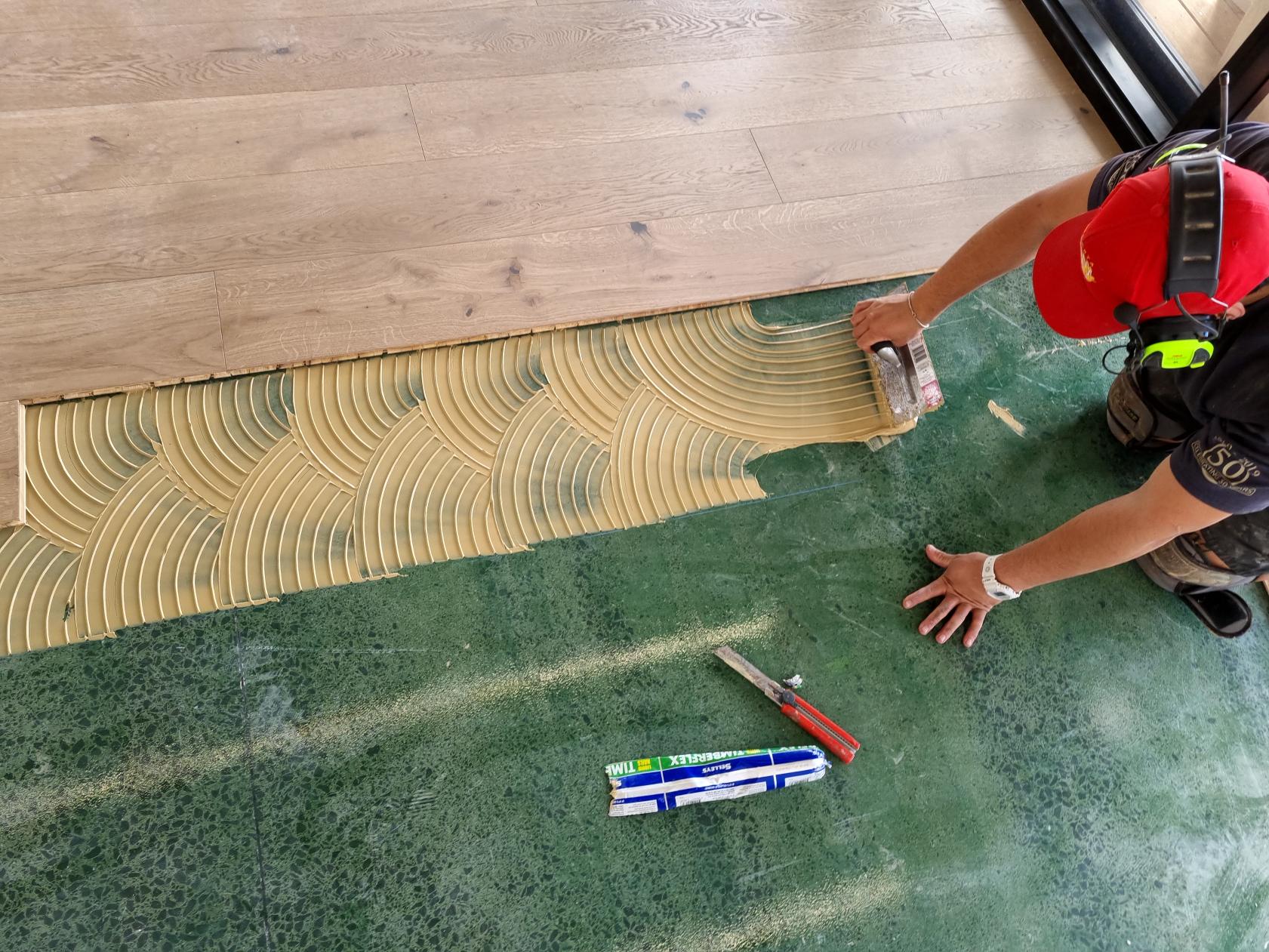 Finish & Colour
Prefinished floors are coloured and coated in the factory. They are usually more cost-effective and provide a better finish than if the wood is sanded and stained on site.
Engineered wood flooring is available in a wide variety of colours that are applied in the factory. The factory ensures each batch is consistent and the final look of the flooring is exactly what you ordered. Custom colours can also be ordered if needed.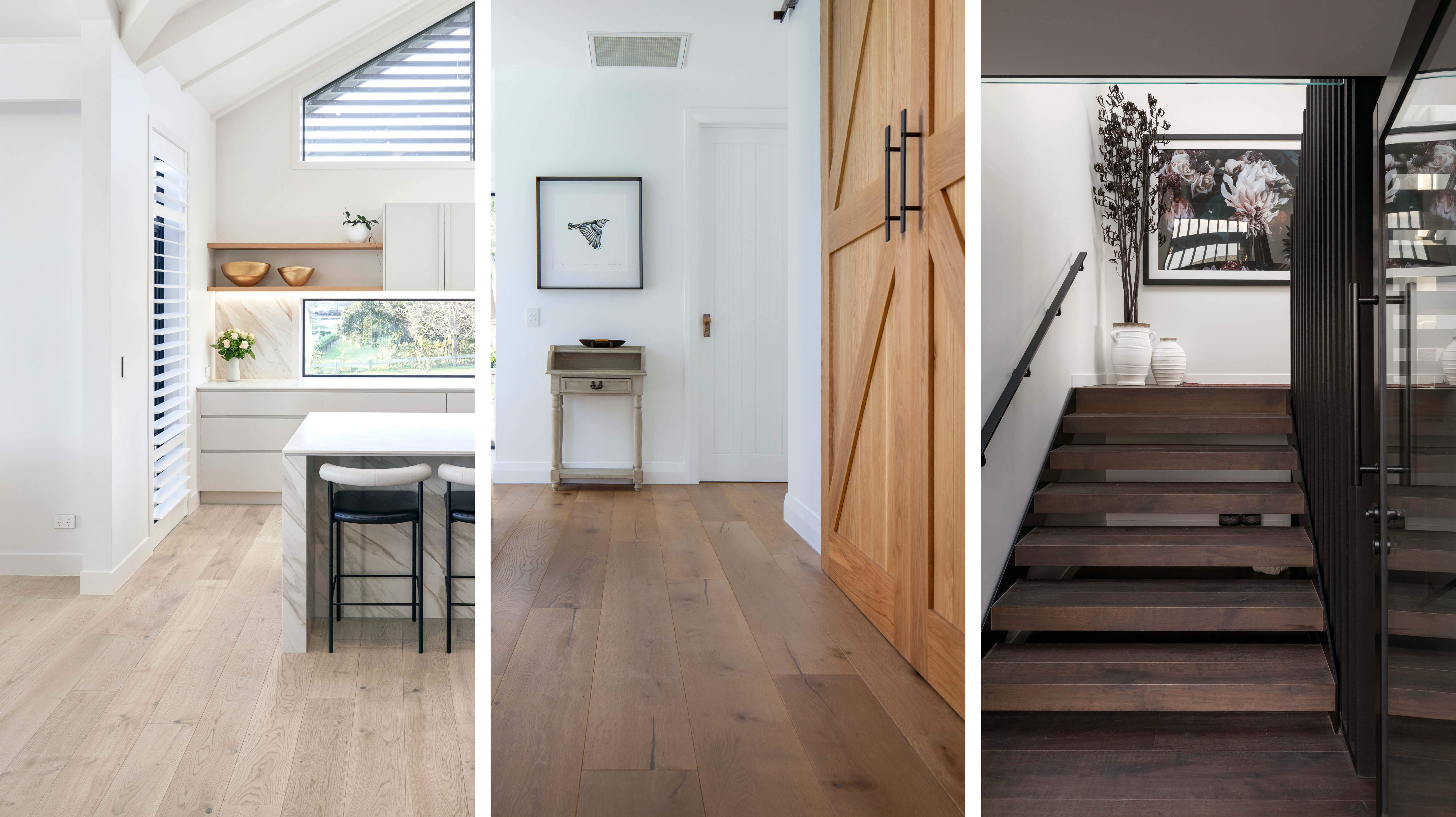 Durability & Lifespan
Engineered wood flooring is always finished with a coating to protect it from damage and moisture, which increases the lifespan of the flooring. Generally, the more coats that are applied, the better protection there is from scratching and staining.
Engineered wood flooring, if glued down, has an impressively long lifespan. Depending on the thickness of the veneer, an engineered wood floor can be re-sanded up to 5 times, giving it a lifespan of 30 – 50 years.
Cost
A premium engineered wood floor (including GST) starts at $150 per m2 and ranges up to $450 per m2, with an average of around $210 per m2 . The thicker the veneer, the more expensive it becomes. Installation costs around $90 per m2, therefore the cost for supply and installation of a mid-range engineered wood floor is approximately $300 m2.
Disadvantages of Engineered Wood Flooring
Lifespan
If engineered wood floors have been installed using a floating method, they are unable to be re-sanded which significantly impacts their lifespan. Glued down floors however can be re-sanded a number of times which increases the lifespan of the floors by decades.
Hollow sounding underfoot
If engineered wood floors have been installed as floating floors then there is the risk of the floor sounding hollow when walked on. We recommend your floor be glued down to eliminate the sound of creaking and cracking underfoot.
Fumes
With engineered wood floors having a backing made up of multiple layers bonded together, there is the increased risk of the floors releasing VOC (volatile organic compounds) which create fumes. This stresses the importance of purchasing your floors from a reputable supplier who uses non-toxic lacquers.
What is Polished Concrete Flooring?
Polished concrete is a multi-step process where a concrete floor is mechanically ground and polished with bonded abrasives. The surface is then cut and refined in order to achieve a variety of finishes.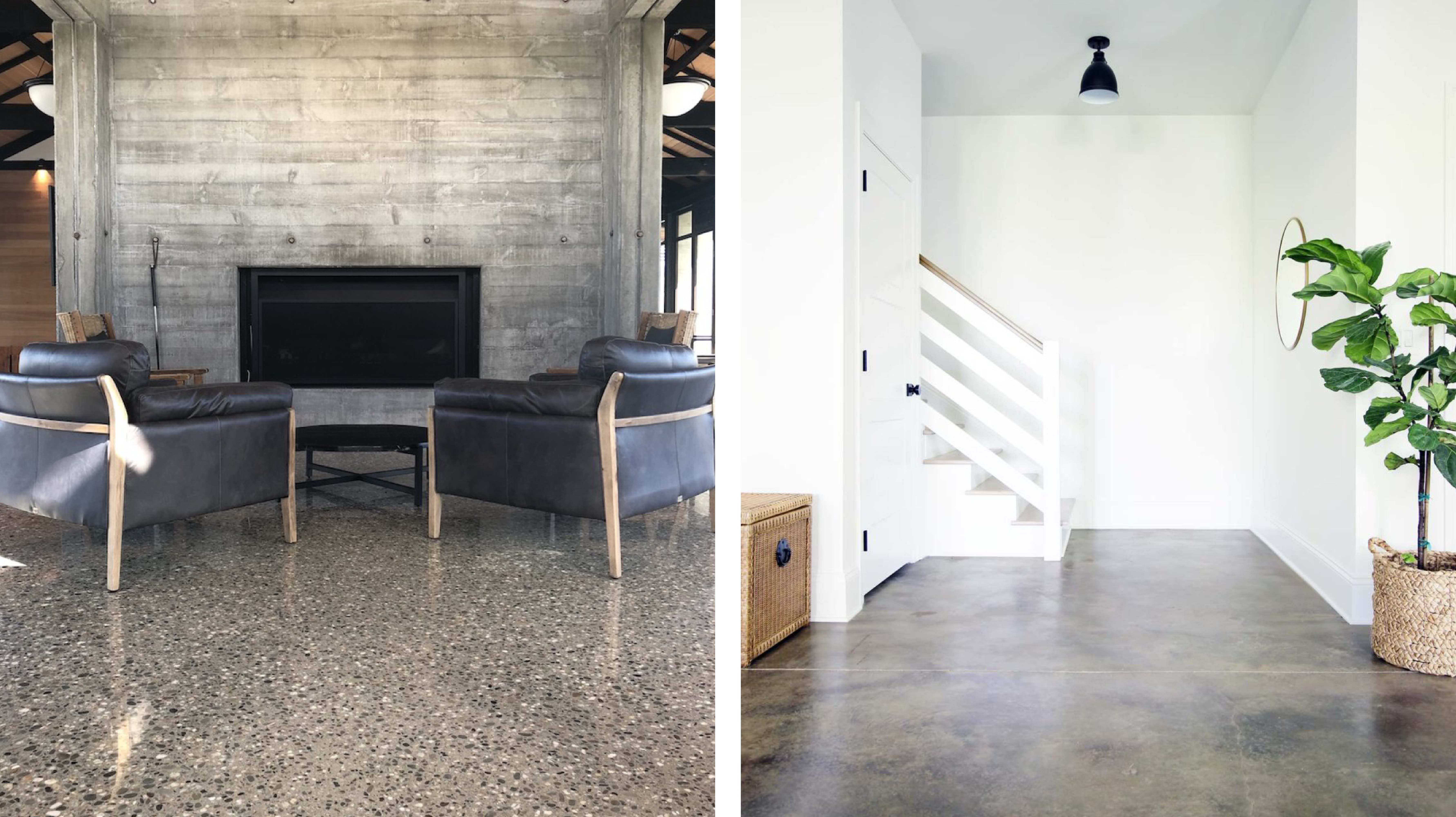 Installation
Polished concrete floors are installed by grinding a concrete slab multiple times with progressively finer diamond grinding tools. The first several steps are called 'cutting' and utilize aggressive grinding tools to remove imperfections and flatten the floor's surface.
The cutting stage exposes the aggregate and determines how many times the concrete mix has to be cut in order to achieve the desired finish. The final 'polishing' steps utilize less aggressive diamond tools and increase the reflectivity of the concrete surface. The more times the surface is polished, the shinier the concrete finish will be.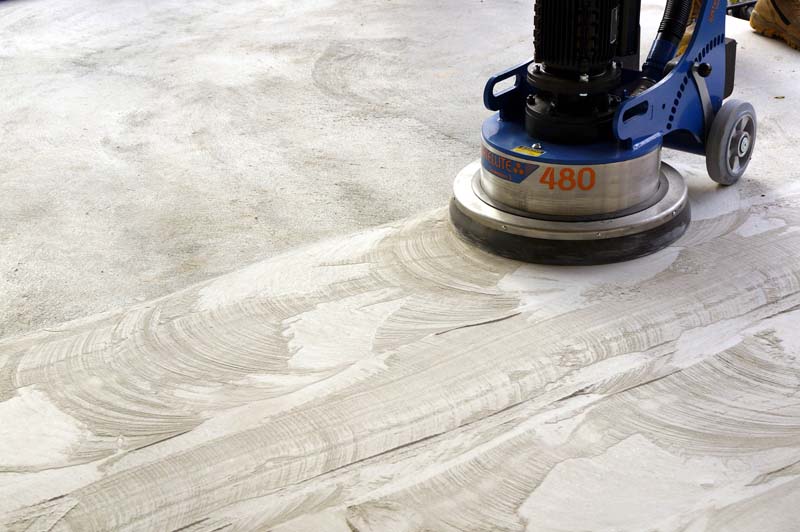 Finish & Colour
One of the main attractions to polished concrete floors is the wide variety of achievable finishes. These finishes include a marble-like appearance, a lightly ground finish that shows off the smallest aggregate, or an aggregate-exposed polish where large aggregate is seen in the concrete mix.
Colour can also be added to concrete floors in the form of stains, dyes or pigments. In new construction, colour is added directly to the concrete mix rather than to the surface as a stain. Adding colour directly to a concrete mix improves appearance, higher durability, and better consistency.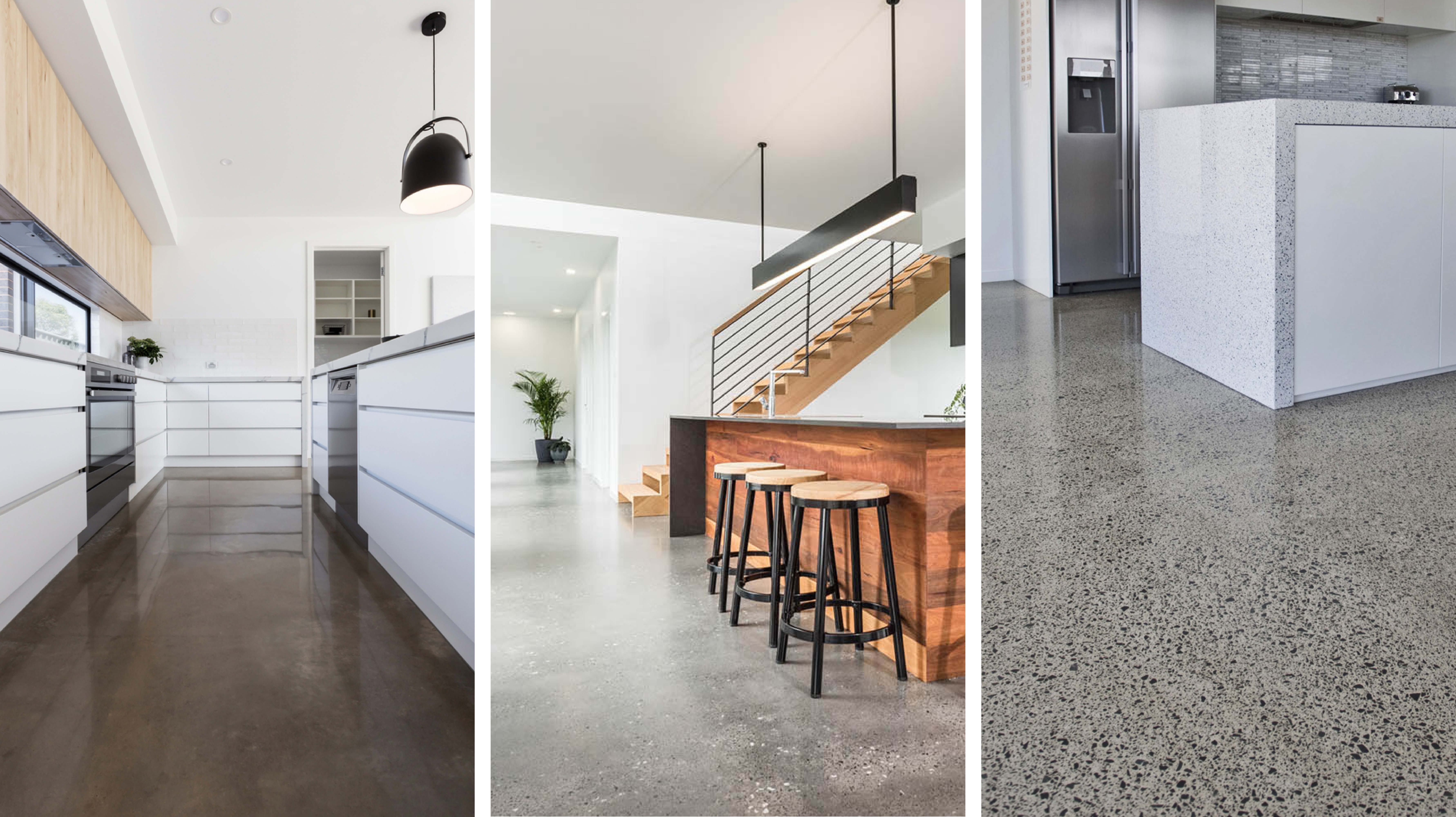 Durability
Stone and sand aggregates, being hard-wearing properties of concrete, make a polished concrete floor robust and durable. If the floors are well maintained they can last for an extended period of time without getting scratched chipped, dented or deteriorating.
A polished concrete floor that has been installed by a reputable installer, with a proactive polished concrete floor maintenance plan, and occasional deep cleaning, can last for 20 years or more with minimal hassle.
Cost
Most homes in New Zealand have poured concrete floor slabs and therefore, if the standard foundation is polished, it works out to be around the same price as an expensive carpet or mid-range engineered wood floor.
When it comes to multi-story buildings, pouring a suspended concrete floor is more costly, at around 10-15% more than a standard particle-board floor.
The cost to have polished concrete ground and sealed starts at $50 - $60 per m2 and includes two coats of quality sealer. To achieve a shinier appearance, the cost per m2 ranges between $60 - $120 depending on the grit used for grinding, the number of polishes and the removal of any waste.
Another aspect to consider with polished concrete flooring is having underfloor heating installed, which would be an additional cost to consider.
Disadvantages of Polished Concrete Floors
Discolouration & Dulling
If your concrete floors have a decorative stain or dye applied, in addition to polishing, it can be susceptible to discoloration or dulling, especially if incorrect cleaning products are used or if there is high foot traffic or moving furniture in one area.
Another aspect to consider is that although concrete floors look great, not all concretes are the same. It is hard to know what your floor will look like as it all depends on the concrete mix below, which can only be known once the grey top is cut off.
Moisture
It definitely pays to have a reputable professional install your polished concrete floors. If concrete flooring is not properly finished and sealed, it may be penetrable by moisture which can lead to the growth of mould or mildew.
Cold & Hard
Another downfall of polished concrete is that it is hard underfoot and offers no cushion or 'give', making it uncomfortable to stand on for long periods of time. It can also feel cold if you live in a cooler climate and therefore underfloor or inslab heating may be required.
Conclusion
In conclusion, polished concrete is on a level playing field with engineered wood flooring with both being desirable flooring options. While polished concrete is suited to modern and industrial architectural interiors, engineered wood flooring can suit a number of styles from classic to contemporary, rustic or modern and provides a warmer and more natural feel in your home.
Whatever your preference may be, it is always advised that you do your research and speak to reputable and trusted suppliers and installers to ensure you make the best decision for you and our project.
Forté offer an extensive collection of luxury on-trend engineered wood flooring products to suit most budgets – view our different ranges here.