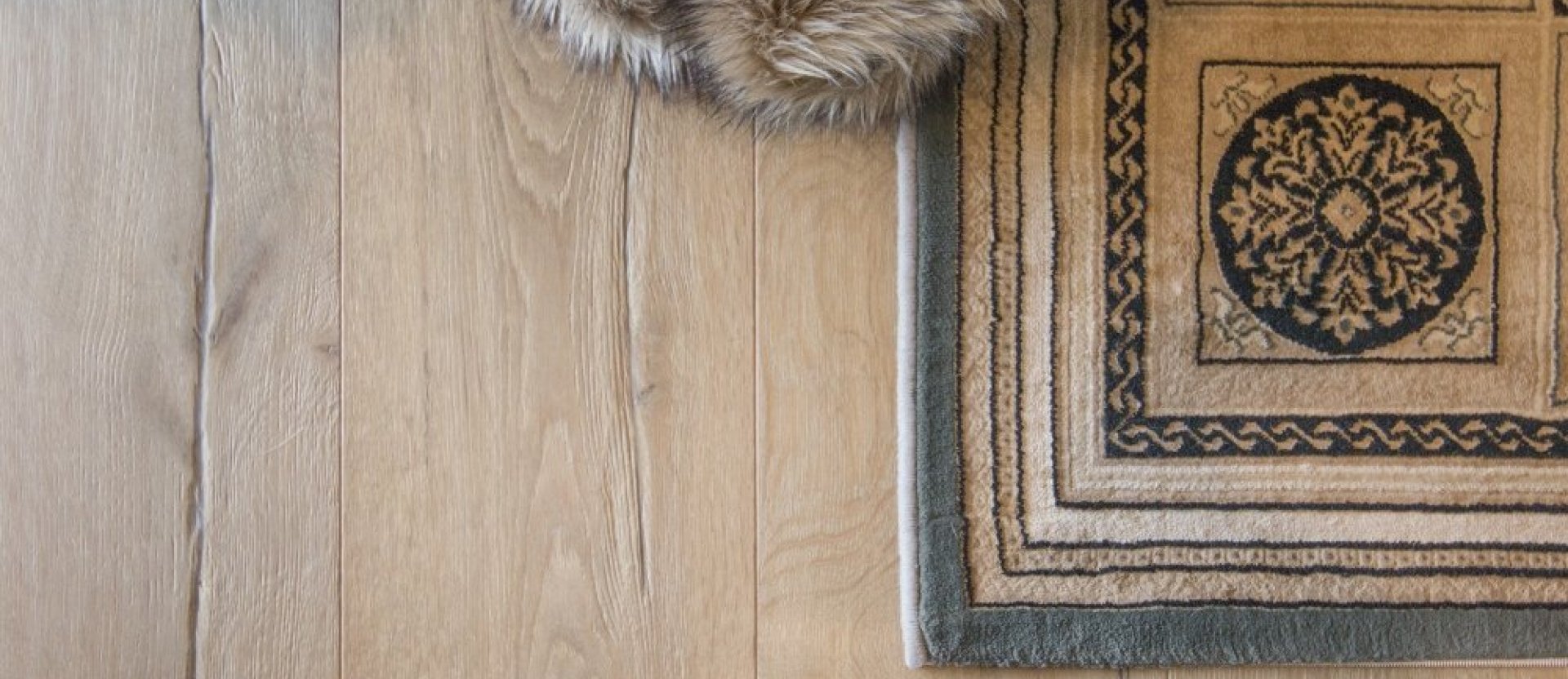 Wood flooring, whether engineered or solid, is one of the most sought-after flooring options, adding texture, warmth and style to interiors and enhancing the aesthetics of the space. Rich, dark chocolate-browns, natural golden hues, vanilla and white tones evoking the feeling of walking on a sandy beach, there are many colour options of wood flooring to suit any style.
Buying a wood floor is not only a huge investment cost wise, it is also the foundation of your home and therefore has a significant impact on the interior aesthetics. That said, it is imperative that you make the right choice on what flooring best suits your needs.
Once you've made the decision to have wood flooring installed in your home, the next big question is – engineered or solid wood?
Firstly, lets explain the difference between these two types of hardwood flooring.
What is solid wood flooring?
A solid wood floor is 100% solid hardwood all the way through which means logs are milled and each plank is then manufactured from one single piece of wood and is therefore considerably more expensive than other flooring types.
What is engineered wood flooring?
Engineered wood has a wear layer/veneer (top layer) of solid hardwood which is fixed to a multi-layered core of stable timber. This core backing is usually made from multiple layers of more readily available timber such as plywood, pine or hevea that are glued cross-directionally and pressed together.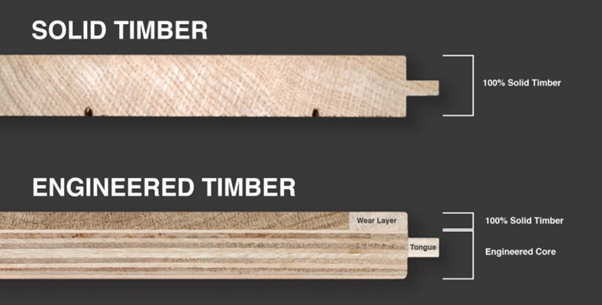 What is a wear layer or veneer?
Each engineered wooden plank features grooves that are cut into one long side and one short side, with wood pieces called tongues sticking out on opposite sides. This is called the joining profile, which can either be tongue and groove or a locking profile, and are what hold the flooring together and keep the planks straight when being installed. The wear layer or veneer is located above the tongue and this determines how many times the flooring can be re-sanded as you can only sand back to the top of the tongue.
The wear layer or veneer varies in thickness and thus will affect the number of re-sands the flooring can have -the thicker the veneer, the longer it will last. Most engineered wood flooring has between a 2mm and 6mm veneer of real wood with the most common veneer thickness being 4mm , giving it enough timber for up to 3 re-sands over its lifespan.

What are the benefits of Engineered wood compared to Solid wood?
STABILITY
Engineered Wood:
The main benefit of engineered wood flooring is the superior stability over solid wood due to the increased resistance to higher and lower levels of moisture. This prevents warping, cupping and shrinkage, all of which are common issues of solid wood, especially in New Zealand's humid climate conditions .
Solid Wood:
Solid wood is at high risk of expanding too much after installation causing the planks to cup or warp, and the floor to fail.
PLANK WIDTH & LENGTH
Engineered Wood:
Due to the superior stability of engineered timber flooring, it is available in longer and wider planks than what can safely be achieved with solid timber flooring. A room laid with wide planks not only makes the space feel bigger but elevates the aesthetics of the interior, giving it an upscale and modern feel.
Solid Wood:
In comparison, solid wood flooring is not as stable as engineered wood flooring and the planks tend to move from humidity fluctuations, therefore the width and length of the planks need to be kept to a minimum to ensure the floor will not expand or contract too much.

COST
Engineered Wood:
Engineered wood flooring is also available prefinished (pre-coloured and coated) from the factory, eliminating the need for sanding and finishing on site and therefore making it more cost effective than solid wood of the same thickness. Another benefit of engineered timber is that it offers varying veneer thicknesses, which means that there are thinner veneer options available for those who want a timber floor but have a smaller budget .
Solid Wood:
In comparison, solid wood flooring is supplied as raw planks which need sanding and finishing on site. This significantly impacts the time it takes to install the floors which, together with the cost of the finishing coats that are applied, heavily increases the final cost of the floor, making it more expensive than engineered timber floors . It is important to note that the timber below the tongue is wasted timber, making it unstable.

LOOK AND FEEL
Engineered Wood:
If your engineered wood floor has been glued down then your floor will feel the same to walk on as a solid wood floor. Due to the hardwood veneer, the floor will also look just like a solid wood floor and therefore will add the same resale value to your home, but at a lesser cost.
Solid Wood:
Solid wood flooring is known for its warmth and sound underfoot, making it one of its main selling points besides the fact that it looks beautiful. However, the forementioned sanding and finishing on site increases the cost of solid wood, making it more expensive than engineered timber .
ENVIRONMENTALLY FRIENDLY
Engineered Wood:
Due to the use of more common timber for the core, engineered wood uses approximately one third of the amount of slow-growing hardwood resource compared to solid wood of the same dimensions, making it the more sustainable option.
Solid Wood:
As solid wood planks are made up of solid wood all the way through and each plank is made from one piece of wood, it is not as environmentally friendly as engineered wood due to the amount of natural hardwood it takes to manufacture . The timber below the T&G cannot be used (re-sanded) and therefore makes it wasted timber.
WHAT YOU SEE IS WHAT YOU GET
Engineered Wood:
Engineered wood flooring on the other hand allows you to choose from pre-set colours which are applied in the factory using strict processes that ensure each batch is consistent and the final look of the flooring is exactly what you ordered . Custom colours can also be ordered if needed.
Solid Wood:
When solid wood flooring is finished on site the colour has to be mixed and applied manually, increasing the risk of the dye ratio being incorrect or the colour being applied too heavily or too lightly. This may result in colour variation or the floor not being the colour you expected . There is also the risk of marks appearing on the planks after being sanded or dust settling on top of the coating while it is drying.
INSTALLATION
Engineered Wood:
Engineered flooring is almost always machined to a higher standard than solid timber flooring, with joint profiles being highly consistent. The boards are straight with the tongue and grooves tending to maintain their size well due to being engineered (do not swell with moisture) and therefore usually fit together very smoothly .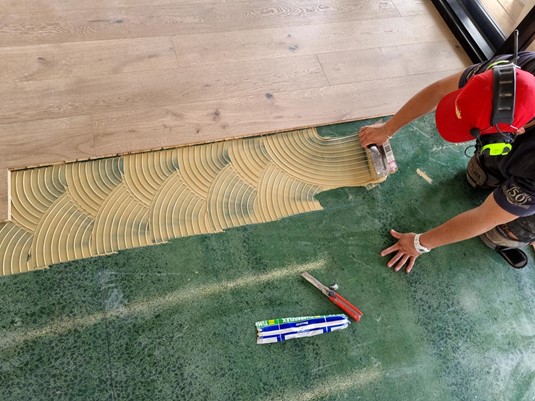 Solid Wood:
On the other hand, solid timber is often difficult to install due lower tolerances in the machining which leads to variances in joints profiles. There is also the risk of the boards taking up moisture, causing the joints to swell and/or causing bowing or cupping to the whole length of the board. This is not always the case but when it does happen it can make the floor very difficult and time-consuming to install.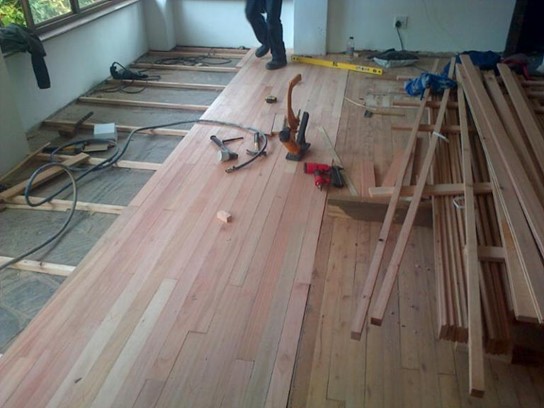 WASTAGE DURING INSTALLATION
Engineered Wood:
With any engineered flooring, you should be able to use every piece of flooring that you buy as it has been strictly graded and should have no structural defects or characteristics outside of the grade that you ordered. However, with solid timber flooring there is always a percentage of product that is not usable due to cracks, loose knots or other structural defects.
Solid Wood:
In comparison with solid timber flooring, there is always a percentage of product that is not usable due to cracks, loose knots or other structural defects, resulting in a higher volume of wastage than engineered wood flooring.
What Are The Disadvantages Of Engineered Wood Compared To Solid Wood?
LIFESPAN
Engineered timber floors, like solid wood floors, can last years with the right maintenance. The floors can be re-sanded a number of times over their lifetime, increasing the lifespan by decades. However, this is only achievable if your engineered wood floors have been glued down. If the floors have been installed using a floating method, then they are unable to be re-sanded and therefore will have a significant impact on the lifespan.
Another disadvantage of engineered wood flooring is the risk of delamination. There are many suppliers who sell low quality engineered wood floors which will not last as long as they should. Therefore, you need to make sure you are purchasing your floors from a reputable and established supplier who offer high quality engineered timber products and a warranty to cover the cost if things go wrong either with the product or installation.
Our solution
A glue down installation method is the only method that we'd recommend. This will allow you to re-sand your floors and give them additional decades of life. Due to the complexity of the installation method, we believe that installing wood floors using a glue down method is a craft, and therefore we have a team of approved craftsmen who we recommend when installing our floors.
Over the years we have been through many factories across the world and have a good understanding of how great quality engineered wood flooring is made. We have hand selected the best partners to work with in designing products that are best suited to New Zealand's climate conditions. We have also found that international testing has been inadequate, therefore we have written our own tests to ensure all our products meet these standards before bringing them to market and can confidently say that all our products are of the highest quality. All our floors have a 25-year structural warranty, so you can rest easy knowing that the big flooring investment you make in your home will be covered.
HOLLOW SOUNDING UNDERFOOT
There is the risk of your engineered wood floors sounding more hollow when compared to solid timber floors, however this is only the case if your floors have been installed as floating floors. If your floors are installed using a glue down method, they will have the same sound and feel as solid timber floors.
Our solution
As mentioned above, a glue down installation method is the only method that we'd recommend when installing wood flooring as this eliminates the sound of creaking and cracking underfoot due to the planks being glued directly to the substrate.
FUMES
With engineered wood floors having a backing made up of multiple layers bonded together, there is the increased risk of the floors releasing VOC (volatile organic compounds) creating fumes (depending on the brand used) that may be harmful to a person's health, especially those with respiratory conditions, or give off an unappealing smell.
Our solution
All of our engineered timber floors are low VOC with no added formaldehyde which means that the finish or lacquer used is non-toxic with low VOC levels.
Conclusion
While many people are attracted to the thought of having solid wood flooring laid in their homes due to it being regarded as better quality, they may not be aware of the potential challenges that may be involved with this type of flooring. Important factors to consider when choosing solid wood flooring for your home include the stability of the floor and the potential risk of cupping and warping, the high cost that comes from the complexity of the installation process and the potential wastage of planks during installation.
While engineered wood flooring shares the same benefits as solid wood, there are many advantages in choosing this type of hardwood over solid wood such as superior stability, more cost effective, quicker and easier installation and more options available to name a few. In the past couple years there has been a substantial increase of engineered wood flooring, compared to solid wood, installed across Europe and New Zealand as many are adopting the opinion that 'engineered wood is solid wood improved.'
But no matter your preference, it is always advised that you research both these hardwood products before committing to having either one installed in your home, as wood flooring is an investment and if cared for correctly, can be enjoyed for decades to come.
For more information on our engineered wood flooring or to speak to our team of experts about your upcoming project, call us on 0508 35 66 77, email us at [email protected] or live chat with us on our website .