5 Differences between Engineered Wood and Laminate Flooring
Advice | June 21, 2022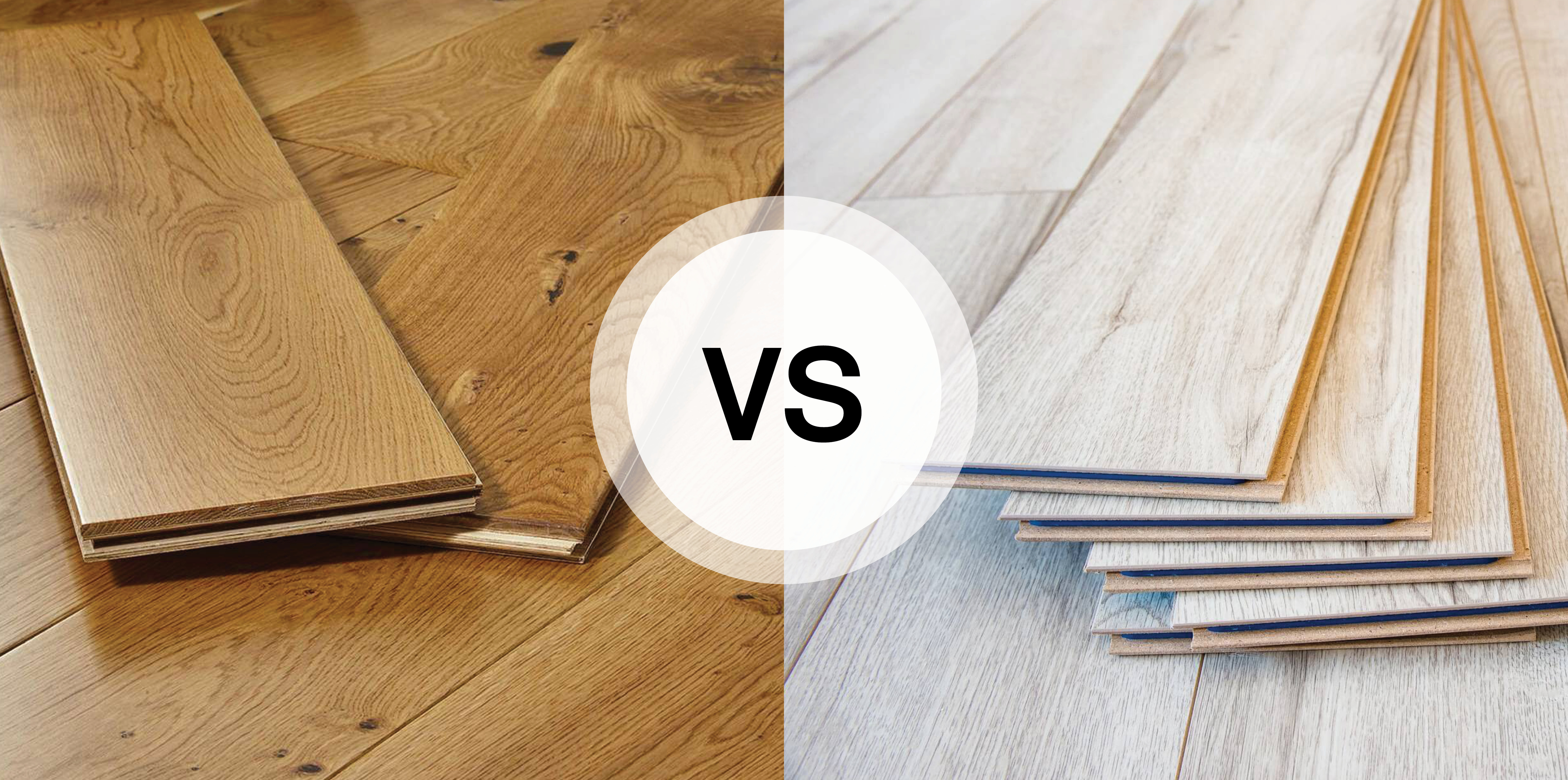 Engineered timber and laminate flooring are two of the most popular flooring choices if you're looking for an alternative to solid wood flooring installed in your home.
While at a glance, laminate flooring may look similar to engineered wood flooring, it couldn't be more different.

Below we'll go through the difference between these two flooring products and list the benefits that engineered wood flooring offers over laminate, to help you make the best decision when choosing flooring for your project.

Important: Since the building code change to E3 came into effect at the end of last year, many are under the impression that laminate flooring is now the only 'wood-like' flooring option suitable for wet areas. However, this is incorrect as engineered timber flooring continues to be a popular choice and can still be installed in wet areas such as kitchens, as long as the floor is installed in accordance with E3. Please refer to our Timber Overlay Flooring Design Guide for more details on how to gain consent when installing engineered wood flooring in wet areas.

What is Laminate Flooring?
Laminate is an entirely man-made synthetic, cost-effective material that consists of many layers fused together through a lamination process. The base of the flooring is fibreboard, and the top is a photographic applique layer simulating real wood and topped with a strong, clear resin.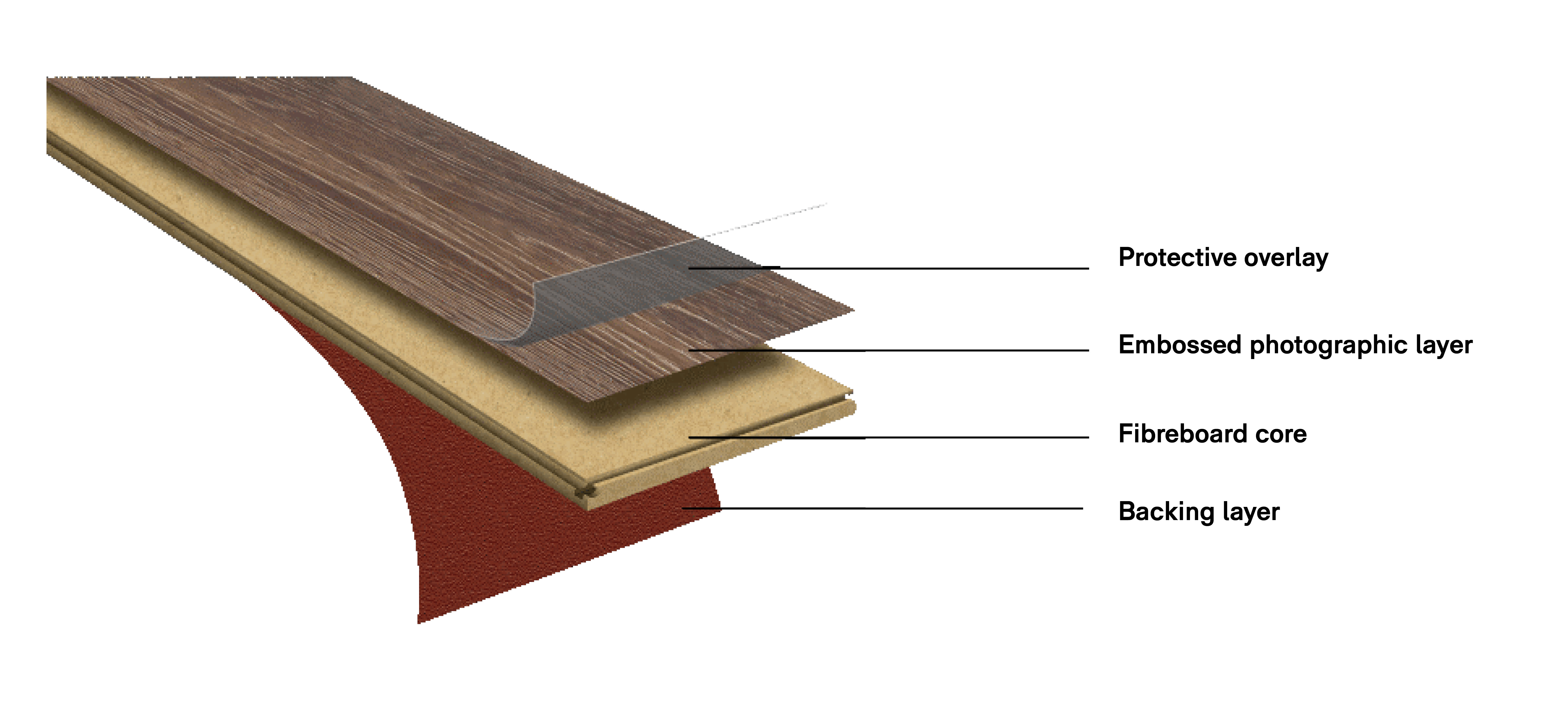 What is Engineered Wood Flooring?
Engineered wood has a wear layer/veneer (top layer) of solid hardwood, which is fixed to a multi-layered core of stable timber. This core backing is usually made from multiple layers of more readily available timber such as plywood, pine or hevea that are glued cross-directionally and pressed together.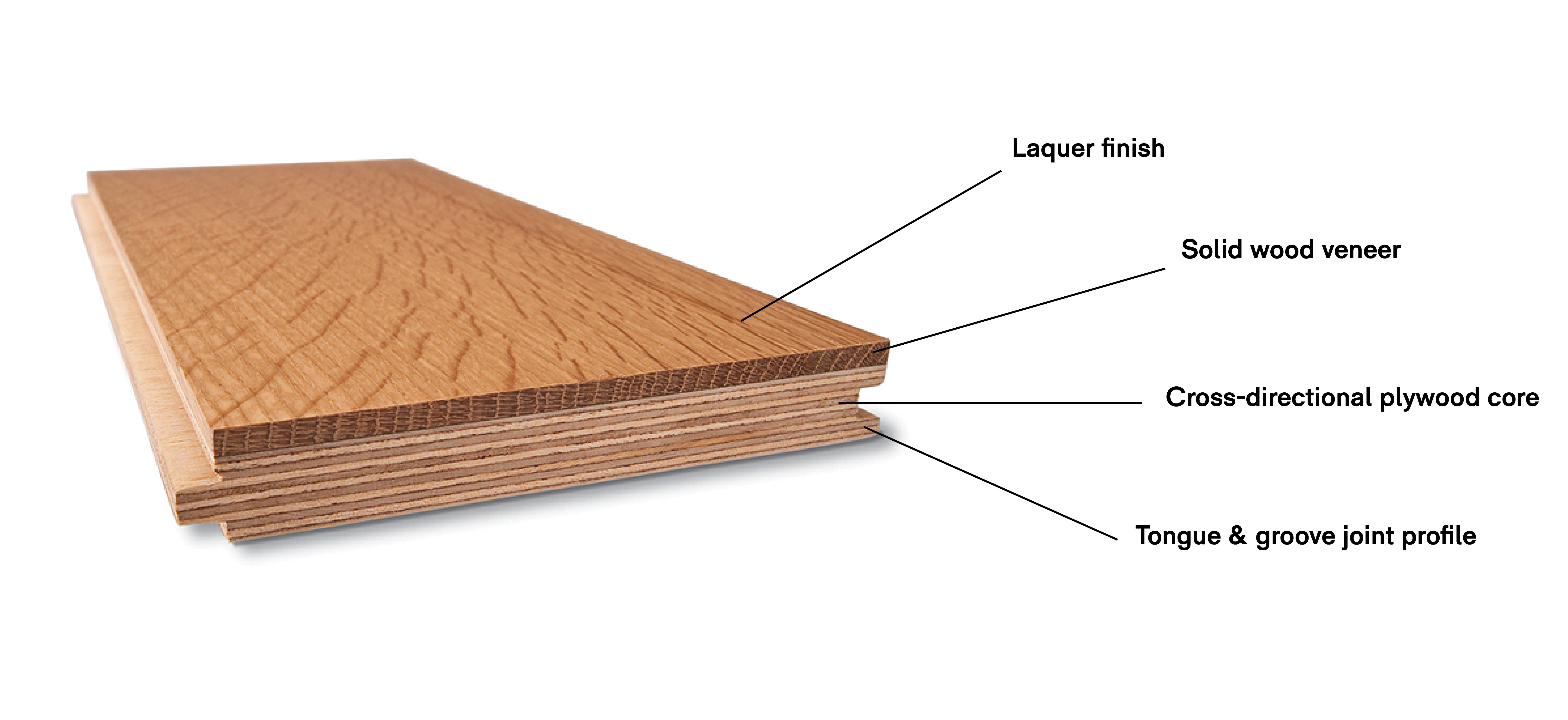 What is a wear layer or veneer?
Each engineered wooden plank features grooves that are cut into one long side and one short side, with wood pieces called tongues sticking out on opposite sides. This is called the joining profile, which can either be a tongue and groove or a locking profile that hold the flooring together and keep the planks straight when installed. The wear layer or veneer is located above the tongue, which determines how often the flooring can be re-sanded as you can only sand back to the top of the tongue.
The wear layer or veneer varies in thickness and thus will affect the number of re-sands the flooring can have - the thicker the veneer, the longer it will last. Most engineered wood flooring has between a 2mm and 6mm veneer of real wood, with the most common veneer thickness being 4mm, giving it enough timber for up to 3 re-sands over its lifespan.

5 Differences between Engineered Wood & Laminate
1. Appearance
Laminate:
Although laminate has become better at mimicking wood in the last several years and offers a variety of colours and textures, it is still a replica and can't compare to real wood. As the boards have a photographic applique layer simulating real wood, there are repetitive boards in a batch with the same pattern and features such as knots and cracks which, once laid, don't look natural or authentic. Expansion trims are required for larger areas, which can affect the overall look, to avoid expansion and contracting of the boards. There is also the risk of the floorboards buckling and the floor joints separating from the extra weight of heavy items such as pianos and pool tables.
Engineered timber:
Engineered wood flooring is the real deal with a genuine hardwood veneer, offering a variety of colours, grades, surface texture and finishes, with no repetitive planks. Nothing brings warmth, heritage and natural character to your interior space like a real hardwood floor.
2. Sound and feel underfoot
Laminate:
Laminate flooring is installed as 'floating' over the subfloor with a foam underlay. This can cause the floor to flex underfoot as you walk, creating a hollow, cracking and crunching sound. Laminate flooring is also synonymous with making unfavourable sounds such as a 'click-clack' sound when walked on with heels or a clicking sound when walked on by pets with untrimmed nails. It can also make the area echoey in sound.
Engineered wood:
Engineered wood flooring is usually glued down for ultimate stability, eliminating the creaking and cracking underfoot that is common with laminate flooring, making it feel and sound better to walk on.
3. Durability, Lifespan & Moisture Resistance
Laminate:
Laminate flooring cannot be sanded or refinished; therefore, when the flooring becomes badly scratched, dented or chipped, it must be removed and replaced. Depending on the quality of the material used, laminate flooring has a lifespan of around 10-20 years.
Laminate flooring can be laid in semi-moist environments as long as the boards are tightly sealed. If moisture or water penetrates the lower fibreboard core, it will swell and not contract to its original shape once dried.

Engineered wood:
Engineered wood flooring is always finished with a coating to protect it from damage and moisture, which increases the lifespan of the flooring. Generally, the more coats applied, the better protection there is from scratching and staining. Engineered wood flooring, if glued down, has an impressively long lifespan. Depending on the thickness of the veneer, an engineered wood floor can be re-sanded up to 5 times, giving it a lifespan of 30 – 50 years or more if cared for correctly.
As the base core of engineered hardwood flooring is dimensionally stable, they are better than laminate or even solid hardwood at resisting swelling and expansion if subjected to water.

4. Resale value
Laminate:
Laminate flooring can have a negative impact on the resale of your home, depending on the material used. Although it is no longer seen as an inferior material and offers better resale value than carpet or vinyl, it is nowhere near as favourable as real hardwood flooring.
Engineered Wood:
Engineered wood flooring adds significant resale value to a home. It can be a real selling feature when putting your house on the market as it offers prestige and superiority over laminate with its appearance, lifespan, sound, and feel underfoot.
5. Sustainability
Laminate:
Laminate flooring is made from synthetic material and a base fibreboard which is produced by crushing up pine and mixing it with a type of glue/resin, making it a lot less friendly to the environment. Although manufacturers use renewable materials in their laminate flooring, the glue it is mixed with contains a certain amount of toxins.
If the laminate isn't FSC or PEFC certified, then there is a risk of it being harvested from forests where clear-cutting and other harmful environmental processes are practiced. When appropriately harvested from forests that adhere to conservation rules, the harvesting of the wood itself is eco-friendly.

Engineered Wood:
Engineered wood flooring is a sustainable option due to both the solid wood veneer and plywood base of the planks being environmentally friendly. The veneer of engineered wood flooring planks uses far less of the tree per plank than a solid hardwood floor, for example, making it a more sustainable natural wood product.
Plywood is also one of the most environmentally friendly natural wood products on the market as it is a fast-growing renewable resource.

The manufacturing process of engineered wood flooring doesn't involve the use of toxic glue like laminate does, and quality engineered timber is either PEFC or FSC certified, making it environmentally friendly too.


In conclusion, although engineered timber flooring comes at a higher cost, the benefits far outweigh those of laminate flooring. Laying engineered wood in your home is a considerable investment, bringing warmth, character, durability and value to your property that will be enjoyed for decades to come.

If you have any questions or want more information on the extensive collection of premium engineered timber products we offer, please contact our team of experts at 0508 35 66 77, email us at [email protected] or live chat with us on our website.